National Assembly of the Republic of Serbia / Activities / Activity details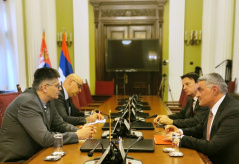 25 February 2020 The Head of the Parliamentary Friendship Group with Armenia Aleksandar Cotric in meeting with Armenian Ambassador to Serbia Ashot Hovakimyan
Tuesday, 25 February 2020
Head of Parliamentary Friendship Group with Armenia Talks to Armenian Ambassador to Serbia
The Head of the Parliamentary Friendship Group with Armenia Aleksandar Cotric met today, at the National Assembly House, with Armenian Ambassador to Serbia Ashot Hovakimyan.
---
Cotric said that the two countries have recently worked intensively on strengthening and deepening the historically friendly relations, resulting in a reciprocal abolishment of visas.
"Our political relations are traditionally good, but we should work on advancing the cooperation in the fields of culture, economy, transportation and infrastructure. The abolishment of visas will contribute to a better economic cooperation and trade, as well as improve the relations in the field of tourism", said Cotric.
According to him, the cooperation between Serbia and Armenia has finally been institutionalized with the official opening of a Serbian Embassy in the Republic of Armenia. Cotric congratulated the Ambassador for his personal engagement and activism, stressing that his efforts and knowledge of the situation in our country helped achieve this result.
Armenian Ambassador to Serbia Ashot Hovakimyan affirmed the importance of the visa abolition saying that with it the countries achieved full reciprocity. He reminded the host of the coming visit of the Armenian Parliament Speaker to Serbia, highlighting the importance of good parliamentary cooperation between the two countries.
The officials also discussed the political developments in Serbia and Armenia and global challenges.


---
---