National Assembly of the Republic of Serbia / Activities / Activity details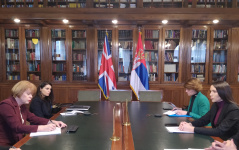 23 January 2023 The Head of the PFG with the UK Nevena Djuric and UK Member of the Parliament Wendy Morton discuss interparliamentary cooperation
Tuesday, 24 January 2023
Head of PFG with UK and UK Member of Parliament Discuss Interparliamentary Cooperation
The Head of the Parliamentary Friendship Group with the UK Nevena Djuric met on 23 January 2023 at the National Assembly with UK Member of the Parliament Wendy Morton to discuss the advancement of interparliamentary cooperation.
---
Highlighting the two countries' long diplomatic tradition, Nevena Djuric pointed out that last year marked 185 years since the establishment of diplomatic relations. Djuric expressed her belief that the interparliamentary cooperation could develop further through an exchange of visits by the two parliaments' friendship groups and work on joint projects of mutual interest.
Djuric thanked the UK Government for the significant support it provides to Serbia through the Good Governance Fund. She also said that British companies employ 3,300 workers in Serbia, adding that there is room to raise economic and trade cooperation to a higher level.
Wendy Morton agreed that relations between Serbia and the UK can be further developed through interparliamentary cooperation and exchange of experiences and good practices between parliamentarians.
The officials spoke extensively about the importance of motivating young people to get involved in politics and the work of the Parliament, agreeing that parliamentary programmes that educate about the importance of democracy and parliamentarism greatly contribute to this. Djuric pointed out that there is a significant number of young MPs in the National Assembly, also mentioning as a good practice example the work of the informal Women's Parliamentary Network, comprised of MPs from different parties whose cooperation has led to significant positive results, especially at the legislative level.
The meeting also touched on the current situation in Kosovo-Metohija. Nevena Djuric pointed out that Serbia's leadership, with the President of the Republic Aleksandar Vucic at its head, is committed to preserving peace and stability, despite Pristina's unilateral moves that are causing the crisis. Belgrade is ready to continue the dialogue and find a compromise solution, she pointed out, adding that for us, the priority is the safety of the Serbs in Kosovo-Metohija. It is important to respect and implement the signed agreements, said Nevena Djuric referring to the formation of the Community of Serb Municipalities which has been waiting for a decade, and stated that Belgrade expects the UK's support for the continuation of the dialogue and finding a solution.
She went on to say that Serbia is also committed to regional cooperation, as evidenced by the launching of the "Open Balkans" regional initiative, comprised by, in addition to our country, North Macedonia and Albania, which makes it easier for entrepreneurs in the region to do business.
---
---
| M | T | W | T | F | S | S |
| --- | --- | --- | --- | --- | --- | --- |
| 27 | 28 | 29 | 30 | 1 | 2 | 3 |
| 4 | 5 | 6 | 7 | 8 | 9 | 10 |
| 11 | 12 | 13 | 14 | 15 | 16 | 17 |
| 18 | 19 | 20 | 21 | 22 | 23 | 24 |
| 25 | 26 | 27 | 28 | 29 | 30 | 31 |
saturday, 2 december
No announcements for selected date