National Assembly of the Republic of Serbia / Activities / Activity details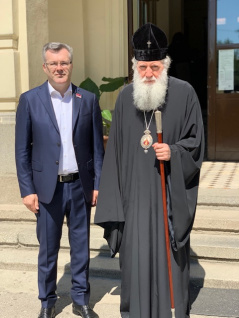 26 May 2019 The head of the National Assembly standing delegation to PABSEC MA Igor Becic and the head of the Bulgarian Orthodox Church His Holiness Patriarch Neophyte
Monday, 27 May 2019
Head of National Assembly Standing Delegation to PABSEC MA Igor Becic in Delegation Observing European Parliament Elections in Bulgaria
The head of the standing delegation of the National Assembly of the Republic of Serbia to the Parliamentary Assembly of the Black Sea Economic Cooperation (PABSEC) MA Igor Becic took part in the PABSEC delegation that observed the elections for the European Parliament in Bulgaria, on 26 May 2019.
---
The PABSEC delegation also comprised Georgian MP Ramaz Nikolaishvili and PABSEC Secretary General Asaf Hajiyev.
The European Parliament elections, conducted between 23 and 26 May 2019 in different EU member states, were in Bulgaria held on Sunday 26 May 2019.
As part of the international observation mission, MP Igor Becic visited polling station is Sofia, confirming that the election process was conducted in line with democratic standards and procedures. The EP elections in Bulgaria were transparent and proceeded with no irregularity.
In the course of the observation mission to Bulgaria, Becic had a series of meetings, among others with the head of the Bulgarian Orthodox Church His Holiness Patriarch Neophyte.


---
---
| M | T | W | T | F | S | S |
| --- | --- | --- | --- | --- | --- | --- |
| 27 | 28 | 29 | 30 | 31 | 1 | 2 |
| 3 | 4 | 5 | 6 | 7 | 8 | 9 |
| 10 | 11 | 12 | 13 | 14 | 15 | 16 |
| 17 | 18 | 19 | 20 | 21 | 22 | 23 |
| 24 | 25 | 26 | 27 | 28 | 29 | 30 |
| 31 | 1 | 2 | 3 | 4 | 5 | 6 |
tuesday, 11 august
No announcements for selected date