National Assembly of the Republic of Serbia / Activities / Activity details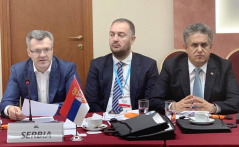 27 November 2018 The National Assembly delegation at the PABSEC plenary in Yerevan
Wednesday, 28 November 2018
Head of National Assembly Standing Delegation to PABSEC MA Igor Becic Concerned about Pristina's Violation of Free Trade Rule and CEFTA
In the course of the 52nd PABSEC Plenary in Yerevan on 27 November, the Head of the National Assembly standing delegation MA Igor Becic took the floor to draw attention to the flagrant, unacceptable and unilateral actions of Pristina, especially the recent absurd introduction of a 100% customs tax for goods imported from Central Serbia and Bosnia and Herzegovina.
---
These actions were deemed to be a gross violation of CEFTA that jeopardizes the rights and lives of people in Kosovo-Metohija, as well as regional stability and the dialogue between Belgrade and Pristina.

Pristina's illegal acts again confirmed Serbian President Aleksandar Vucic's words that any unilateral moves by Pristina would lead to a crisis and instability and threaten the security of the entire region.
Becic urged to rescind the taxes imposed on goods from Serbia and Bosnia and Herzegovina and for the free movement of people, goods and services and safety of the people in Kosovo-Metohija.


---
---
thursday, 9 april
13.00 - press conference of MPs Sasa Radulovic, Branka Stamenkovic and Vojin Biljic (National Assembly House, 13 Nikola Pasic Square, Central Hall)