National Assembly of the Republic of Serbia / Activities / Activity details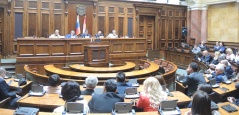 16 June 2015 The Head and members of the Parliamentary Friendship Group with Russia and the delegation of the International Affairs Committee of the State Duma of the Russian Federation
Tuesday, 16 June 2015
Head and Members of Parliamentary Friendship Group with Russia Meet with Russian State Duma International Affairs Committee Delegation
The Head and members of the Parliamentary Friendship Group with Russia met today, at the National Assembly House, with a delegation of the International Affairs Committee of the State Duma of the Federal Assembly of the Russian Federation, headed by Committee Chairman Alexey Pushkov.
---
Greeting the members of the Russian parliamentary delegation, the Head of the PFG with Russia Dr Aleksandar Martinovic said that this, the biggest parliamentary friendship group in the National Assembly, boasts 127 members, which best reflects the MPs' dedication to fostering good political and economic relations with the Russian Federation. Martinovic stressed that the two countries maintain a very high level of interparliamentary relations, especially since the National Assembly and the State Duma had signed an Agreement on interparliamentary cooperation in 2009.

In the course of the meeting, Aleksandar Martinovic opined that Serbia and Russia share a similar past and a delicate foreign policy situation at present. Serbia is committed to EU accession, but still intends to continue building its relationship with the Russian Federation, said Martinovic, stressing that Serbia would not be instating sanctions against Russia. Martinovic thanked the Russian Federation for being the keeper of Serbia's integrity and sovereignty, as a permanent member of the UN Security Council, and not recognising the illegitimate self-proclaimed independence of Kosovo. He also said that the announced proposal of a Resolution on Srebrenica and the ruling of the permanent members of the UN Security Council on it is currently a hot topic in Serbia. Aleksandar Martinovic said that Serbia had condemned the crime in Srebrenica, as well as all the crimes committed on the territory of former Yugoslavia and expects all the other countries, former Yugoslav republics, to condemn the crimes committed against the Serbian people on the territory consumed by the war in former Yugoslavia.

The Chairman of the State Duma International Affairs Committee, Alexey Pushkov said that Russia holds its relations with Serbia in high esteem and that the interparliamentary cooperation is quite well developed. He informed the members of the PFG with Russia about the State Duma's initiative to set up an interparliamentary commission which would further the relationship between the two parliaments and give it a solid framework. Alexey Pushkov thanked Serbia for its principled decision not to consider instating sanctions against the Russian Federation.

The officials also agreed that Serbia and the Russian Federation enjoy excellent cooperation and mutual support in international organisations such as the United Nations, OSCE, Council of Europe. They also discussed the prospects for boosting the scope of trade between the two countries and improving agricultural and educational cooperation.


---
---
friday, 18 september
No announcements for selected date