National Assembly of the Republic of Serbia / Activities / Activity details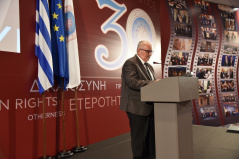 4 July 2023 Haji Milorad Stosic representing the Parliamentary Assembly of the Mediterranean at 30th anniversary of the General Assembly of the Interparliamentary Assembly on Orthodoxy
Tuesday, 4 July 2023
Haji Milorad Stosic Represents Parliamentary Assembly of Mediterranean at Interparliamentary Assembly of Orthodoxy General Assembly 30th Anniversary
The Head of the National Assembly standing delegation to the Parliamentary Assembly of the Mediterranean, Haji Milorad Stosic, represented the Parliamentary Assembly of the Mediterranean at the 30th anniversary of the General Assembly of the Interparliamentary Assembly on Orthodoxy, held in the Republic of Greece, 29 June - 3 July 2023.
---
The main topic of the event was "30 Years of IAO: Facing New Challenges. Before New Perspectives."
The aim of the session was to map two ambivalent trends, with the intention of reaching a conclusion that will contribute to the ongoing global dialogue on the role of Christian values. In his presentation as representative of the Parliamentary Assembly of the Mediterranean at the inauguration ceremony, Stosic pointed out that xenophobia, racism, extreme nationalism, misogyny, Islamophobia, anti-Semitism and anti-Christian sentiments are diseases that plague our societies and stand in the way of human brotherhood.
While all major religions advocate tolerance, acceptance of diversity, respect and peace, our societies witness the manipulation of these religious doctrines in the service of violence and hatred. He said that the international community has already addressed this issue, making it the central topic of several high-level meetings. He informed the attending that the UN Security Council invited the greatest religious leaders and the discussions culminated in the unanimous adoption of a resolution calling on states to publicly condemn hate speech, racism and acts of extremism.
At the same time, the Inter-Parliamentary Union held a Parliamentary Conference on Interfaith Dialogue in Marrakesh. The declaration adopted at the end of it emphasised the key role of parliamentarians in peacekeeping and interfaith dialogue and encouraged the development of strong cooperation with religious leaders and communities, in order to build effective solidarity among nations.
In his address, Stosic concluded that parliamentarians have a special role in promoting peace, human brotherhood and tolerance, and that regardless of our religion or culture, we all defend these values and work to turn them into a concrete reality at home and in our communities.
---
---
| M | T | W | T | F | S | S |
| --- | --- | --- | --- | --- | --- | --- |
| 27 | 28 | 29 | 30 | 1 | 2 | 3 |
| 4 | 5 | 6 | 7 | 8 | 9 | 10 |
| 11 | 12 | 13 | 14 | 15 | 16 | 17 |
| 18 | 19 | 20 | 21 | 22 | 23 | 24 |
| 25 | 26 | 27 | 28 | 29 | 30 | 31 |
saturday, 2 december
No announcements for selected date