National Assembly of the Republic of Serbia / Activities / Activity details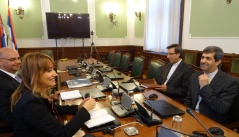 16 July 2014 Foreign Affairs Committee Chairperson Aleksandra Djurovic and the Iranian Ambassador to Serbia, Majid Fahim Pour
Thursday, 16 July 2015
Foreign Affairs Committee Chairperson Meets with Iranian Ambassador to Serbia
Foreign Affairs Committee Chairperson Aleksandra Djurovic met today with the Iranian Ambassador to Serbia, Majid Fahim Pour, to discuss bilateral cooperation between Serbia and Iran.
---
The Iranian Ambassador to Serbia opined that the two countries' friendly relations set the groundwork for an improvement of parliamentary cooperation. Serbia's important position in the Balkans, just like Iran's in the Middle East, makes the two countries' cooperation beneficial for both the regions, said Fahim Pour. He is pleased with the results achieved by the two countries' mixed committee, especially in the field of science and education which had resulted in scholarships for Serbian students. He repeated the invitation the Speaker of the Parliament of the Islamic Republic of Iran to the National Assembly Speaker to visit the country before the end of this year, also hoping that the two parliaments' friendship groups would intensify their mutual contacts. Ambassador Fahim Pour told the Foreign Affairs Committee Chairperson that Iran supports Serbia's European integration and hopes the expected talks would soon begin.

The Foreign Affairs Committee Chairperson thanked Iran for its support of Serbia's European integration process and the 10 scholarships awarded to Serbian students which she opined was very important for the future cooperation between the two countries. She restated that Serbia is dedicated to the reform process and austerity measures, which have already yielded some results, and announced an imminent reform of education and healthcare. Serbia has shown itself ready to conduct the reforms required from EU candidate countries, adding that the enlargement process should be defined by clearer criteria, rather than political circumstances. Djurovic said that Serbia is committed to the talks with Pristina aimed at ensuring a better life for the citizens of Kosovo-Metohija, and to cooperation with countries in the region. In 2012 the Foreign Affairs Committee launched an initiative for cooperation with the regional countries' foreign affairs committees which resulted in specific talks about joint activities in international organisations, said Djurovic. She added that Serbia closely followed Iran's nuclear programme talks and applauded the eventual lifting of the sanctions against Iran.


---
---
wednesday, 23 september
No announcements for selected date