National Assembly of the Republic of Serbia / Activities / Activity details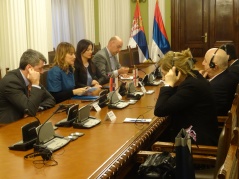 3 December 2015 The Foreign Affairs Committee Chairperson in meeting with the Chairman of the Georgian parliamentary Committee on Foreign Relations
Thursday, 3 December 2015
Foreign Affairs Committee Chairperson Meets with Georgian Parliament's Foreign Relations Committee Chairman
Foreign Affairs Committee Chairperson Aleksandra Djurovic met today, at the National Assembly House, with Tedo Japaridze, Chairman of the Georgian parliamentary Committee on Foreign Relations.
---
Djurovic thanked the Chairman of the Georgian parliamentary Committee on Foreign Relations Tedo Japaridze for his time, adding that today Serbia is host not only to Georgian guests, but to the 57 participating countries of the OSCE Ministerial Council as well. She briefed Japaridze on the activities of the National Assembly's Foreign Affairs Committee stressing that Euro-integration is Serbia's priority, a process on which the entire National Assembly is in consensus, with all of the political parties in it bending their efforts toward achieving this goal.

"We are witnessing Europe struggling with big challenges these days which have pushed the issue of enlargement into the background, but we hope Serbia will soon become a full EU member." Committee Chairperson Aleksandra Djurovic emphasised the importance of regional cooperation adding that Serbia has emerged as the leader in the process of reconciliation, which is essential for its and the neighbouring countries' economic prosperity. Djurovic added that the National Assembly is currently deliberating on the Bill on the Confirmation of the Agreement between the Government of the Republic of Serbia and the Government of Georgia on Visa Abolition for Diplomatic and Official/Special Passport Holders, stressing that she has no doubt it would be passed, which she believes will spur the economic cooperation between the two countries which has already been following an upward trend in the last few years.

The Chairman of the Georgian parliamentary Committee on Foreign Relations Tedo Japaridze thanked his host for the invitation and the opportunity to meet at the National Assembly House and added that, though quite far apart geographically, the two countries share a number of similarities even in the challenges they are dealing with, such as joining the European Union. "Georgia is an independent country going through a complex diplomatic transformation and modernisation and it is turned toward Europeanisation", said Japaridze adding that this is a unique opportunity to intensify the relations between the two countries.

The officials also discussed strengthening bilateral economic relations and security measures. Marija Obradovic, Foreign Affairs Committee member and Defence and Internal Affairs Committee Chairperson, opined that the cooperation between Serbia and Georgia can be bolstered by exchanges at the level of parliamentary friendship groups and experiences concerning gender equality, while Committee Deputy Chairman Prof. Dr Zeljko Obradovic added that ties can be strengthened at the level of parliamentary delegations in international institutions, primarily the Parliamentary Assembly of the Council of Europe.

The meeting was also attended by Georgian Ambassador Ioseb Nanobashvili who spoke about strengthening economic ties between the countries, also mentioning that a great many Serbian athletes play for Georgian national teams which could be another avenue of cooperation.


---
---