National Assembly of the Republic of Serbia / Activities / Activity details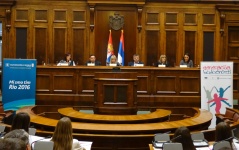 22 December 2015 The final annual gathering of the participants of project Social Inclusion – Generation of the Future
Tuesday, 22 December 2015
Final Annual Gathering of Participants of Project Social Inclusion – Generation of the Future
The National Assembly hosted the final annual gathering of the participants of project Social Inclusion – Generation of the Future, conducted by Dale Carnegie Training Centre Serbia (DCT), with the support of Vojvodjanska banka.
---
Vesna Rakonjac, Chairperson of the Committee on Labour, Social Issues, Social Inclusion and Poverty Reduction and member of the Committee on the Rights of the Child, congratulated the participants of the project on the third successful year of operation, adding that there are 6500 children without parental care in Serbia, 5800 of which are placed with foster families, and about 700 in residential institutions for children without parental care. "The objective of this programme is to educate and motivate young people without parental care to acquire and develop interpersonal skills, boost their confidence and prepare them to for independent life" said Rakonjac. She added that she was well aware of the problems of children without parental care and that after leaving the welfare system they soon become its beneficiaries again, with only 3% deciding to continue their education.

Minister of Labour, Employment, Veteran and Social Affairs Aleksandar Vulin said that the Ministry takes care of children without parental care, which is both its legal duty and, above all, privilege. The Minister said that the Ministry is working on bolstering foster families, saying that what they do is not a job but a mission because no one can pay for the sense of responsibility and love given to children in foster families.

DCT Director Zoran Radovanovic spoke about the child and youth protection activities conducted in 2015, among them more than 50 trainings and a series of additional activities including more than 200 children from 18 cities, securing a series of scholarships for continued education, and the launching of the youth employment project. Violeta Blagojevic, Director of the Nis Centre for Foster Care and Adoption, said that out of the 680 children and young adults in care in southern Serbia, 550 are in the school system, and only two opted to end their schooling. Zorica Dzida, Vojvodjanska banka manager of corporate social responsibility activities, urged big companies to follow the example of Vojvodjanska banka and help children and young people without parental care, because they need help the most, and raise public awareness on the matter.

Afterwards, this year's participants of project Social Inclusion – Generation of the Future, awarded the media representatives with recognitions for their support of the project, socially responsible reporting and help in raising public awareness.


---
---
thursday, 20 january
13.00 - the National Assembly Speaker meets with the Ambassador Extraordinary and Plenipotentiary of the Bolivarian Republic of Venezuela (National Assembly House, 13 Nikola Pasic Square, diplomatic salon of Prince Pavle)