National Assembly of the Republic of Serbia / Activities / Activity details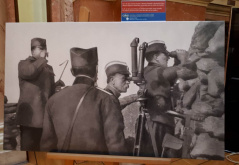 H. R. H. the Crown Prince, Fieldmarshal Zivojin Misic and Fieldmarshal Stepa Stepanovic, from Gruniski Vis (Morava Division front) watch the effect of our artillery
Friday, 9 November 2018
Exhibition to Mark World War One Centenary
To commemorate the victory in World War One, the House of the National Assembly of the Republic of Serbia is hosting an exhibition of photographs recording the battles the Serbian Army fought in the Great War and the breakthrough of the Salonika Front.
---
The photographs are a testimony of Serbia and its soldiers' heroic battles, and its people's sufferings in World War One.
The exhibition was set up with the help of the Association "Serbian Thing" and will last 9 – 16 November 2018.


---
---
wednesday, 8 february
10.00 - continuation of the First Extraordinary Session of the National Assembly of the Republic of Serbia, 13th Legislature (National Assembly House, 13 Nikola Pasic Square)

11.00 - the Head of the PFG with Saudi Arabia meets with the Ambassador of the Kingdom of Saudi Arabia to Serbia (National Assembly House, 13 Nikola Pasic Square, hall 2)

11.00 - press conference of MP Borko Puskic (National Assembly House, 13 Nikola Pasic Square, Central Hall)

11.00 - sitting of the Committee on Administrative, Budgetary, Mandate and Immunity Issues (National Assembly House, 13 Nikola Pasic Square, hall 3)

13.00 - the members of the PFG with Algeria meet with the Algerian Ambassador to Serbia (National Assembly House, 13 Nikola Pasic Square, hall 3)