National Assembly of the Republic of Serbia / Activities / Activity details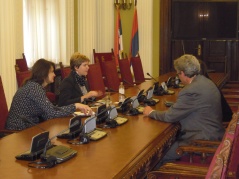 21 May 2012 Member of Parliament and deputy member of the National Assembly's standing delegation to the CoE Parliamentary Assembly Elvira Kovacs with the representatives of the CoE Directorate General of Human Rights and Rule of Law
Monday, 21 May 2012
Elvira Kovacs Speaks to Council of Europe Directorate General of Human Rights and Rule of Law Representatives
Member of Parliament and deputy member of the National Assembly's standing delegation to the Council of Europe Parliamentary Assembly Elvira Kovacs met today, at the National Assembly House, with the representatives of the Council of Europe Directorate General of Human Rights and Rule of Law, currently in visit to Belgrade.
---
The Council of Europe delegation members presented the project "Promoting Human Rights and Minorities Protection in South East Europe", co-implemented by the Council of Europe and European Union. The project covers the former Yugoslav republics, except for Slovenia, and including Albania. They stressed that the project is currently in its opening stage which covers identifying all the subjects dealing with minority issues on the national and regional level. The delegation members wanted to know how minority rights were exercised in the Republic of Serbia and about the potentials for cooperation between the National Assembly MPs and MPs in the region.
MP Elvira Kovacs briefed the guests on the election process in the Republic of Serbia, representation of minorities in the National Assembly and the activities of the Minorities Parliamentary Group in the previous period. On the occasion, she stressed the importance of adopting the Law on National Minority Councils.
It was agreed that the issues of minority representation in national parliaments should take up an important place in future cooperation.
The Council of Europe delegation comprised Markus Jaeger, section head of the Human Rights and Antidiscrimination Directorate, Dusica Puzic, project coordinator and Aleksandra Vujic, project manager for Serbia.

---
---
monday, 15 august
11.00 - press conference of MP MA Ivan Kostic (National Assembly House, 13 Nikola Pasic Square, Central Hall)