National Assembly of the Republic of Serbia / Activities / Activity details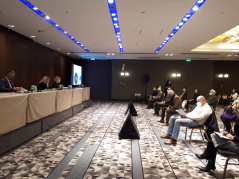 3 December 2020 Eighth Sitting of the Committee on Finance, State Budget and Control of Public Spending
Thursday, 3 December 2020
Eighth Sitting of the Committee on Finance, State Budget and Control of Public Spending
At the sitting held on 3 December 2020, outside of the National Assembly seat in Hotel Metropol in Belgradel, the members of the Committee on Finance, State Budget and Control of Public Spending were presented the Audit Report on the Consolidated Financial Reports of the Annual Financial Statement of the City of Nis 2019 Budget.
---
In addition to the Committee members, the sitting was attended by the President of the Council of the State Audit Institution (DRI) Dr Dusko Pejovic and associates and representatives of the City of Nis.
Presenting the Audit Report on the Consolidated Financial Reports of the Annual Financial Statement of the City of Nis 2019 Budget, DRI Council President Dr Dusko Pejovic said that the financial reports were compiled in line with the rules and regulations, however as some irregularities have been noted the DRI cannot give a positive opinion and is issuing a qualified opinion instead. Pejovic explained in detail what the DRI drew attention to and the recommendations issued. The irregularities were classified per priority i.e. in order in which they should be eliminated, said the DRI Council President expecting that the city of Nis would eliminate priority one irregularities, which can be remedied within 90 days, in the response report.
The Subcommittee for the Consideration of Reports on Audits Conducted by the State Audit Institution had a sitting of its own in the continuation, where the members considered the State Audit Institution's sector reports – Sector 2 and Sector 4. Having considered the sector reports, the Committee accepted the Subcommittee's proposal to accept them and to ascertain conclusion proposals on the considered reports at one of the subsequent Committee sittings.
The DRI Council President Committee then presented the Audit Report on the Republic of Serbia 2019 Budget Final Financial Statement. The Audit covered the financial reports of 26 auditees, 17 of them direct and nine are indirect budget beneficiaries, Pejovic stated. Out of that number, the DRI issues 13 positive opinions and 13 qualified opinions (with reservations), stated Dr. Dusko Pejovic and added that there were no negative marks, nor abstentions. He presented the findings, recommendations and measures taken in the audit procedure to the Committee members in detail, adding that a total of 110 recommendations were given. Here too, he expressed the expectation that the response report would eliminate the irregularities that could be corrected within 90 days.
The sitting was chaired by Committee Chairperson Dr Aleksandra Tomic and attended by the following Committee members and deputy members: Viktor Jevtovic, Zoran Bojanic, Dusko Tarbuk, Olivera Pesic, Ana Beloica, Goran Kovacevic, Svetlana Milijic, Bratimir Vasiljevic, Zoran Tomic, Ana Carapic, Ugljesa Markovic, Radovan Tvrdisic, Vojislav Vujic and Dr Milorad Mijatovic.
Committee sittings outside of the National Assembly seat are held with the support of the United Nations Development Programme (UNDP) and the Swiss Agency for Development and Cooperation (SDC) under the auspices of project "Strengthening the Oversight Role and Transparency of the National Assembly of the Republic of Serbia".
---
Committees related to this activity
---
Photo gallery
---
---
friday, 22 january
No announcements for selected date