National Assembly of the Republic of Serbia / Activities / Activity details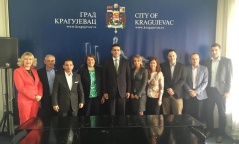 16 May 2015 The members of the Economic Caucus in Kragujevac, Raca and Topola
Monday, 18 May 2015
Economic Caucus Visits Kragujevac, Raca and Topola
On Sunday, 16 May, the members of the Economic Caucus of the National Assembly of the Republic of Serbia visited Kragujevac, Raca and Topola and met with representatives of the local self-governments and entrepreneurs from Sumadija.
---
They discussed how to amend the legislative framework in order to improve the business environment, with a special focus on boosting domestic investments and expanding the capacities of domestic entrepreneurs in the areas of agriculture and the construction industry, as well as creating suitable conditions for cluster mergers so as to improve the competitiveness on the regional and European markets.

They agreed to intensify the communication between the MPs and entrepreneurs so that future legislation can be adapted to the conditions on the market, said the Head of the Caucus Prof. Dr Vladimir Marinkovic.

They also defined the fierce battle against grey economy, which is a serious threat to the entrepreneurs and has a negative impact on the overall economic development in the country, as a common interest of the state and the economy.

Besides the Head of the Caucus Prof. Dr Vladimir Marinkovic, the meeting was also attended by MPs Katarina Rakic, Zoran Babic, Dr Vladimir Pavicevic and Milosav Milojevic, NALED representatives Jovan Miljkovic and Slobodan Krstovic, as well as representatives of the International Republican Institute Biljana Ljubic, Barbara Brummel and Mirjana Zivkovic.


---
---
monday, 30 november
9.00 - National Assembly Speaker Ivica Dacic at the online Council session and 13th Plenary Session of the Collective Security Treaty Organisation (National Assembly House, 13 Nikola Pasic Square, hall 1)

11.00 - sitting of the Environmental Protection Committee (National Assembly House, 13 Nikola Pasic Square, hall 4)

12.00 - National Assembly Speaker Ivica Dacic meets with the the Chairman of the House of Representatives of the Parliamentary Assembly of Bosnia and Herzegovina Nebojsa Radmanovic (National Assembly House, 13 Nikola Pasic Square, hall 1)

12.45 - press conference of National Assembly Speaker Ivica Dacic and the Chairman of the House of Representatives of the Parliamentary Assembly of Bosnia and Herzegovina Nebojsa Radmanovic (National Assembly House, 13 Nikola Pasic Square, Central Hall)