National Assembly of the Republic of Serbia / Activities / Activity details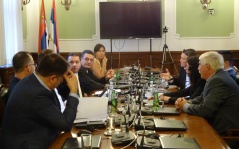 31 July 2015 Meeting of the Economic Caucus and the representatives of International Transport business association
Friday, 31 July 2015
Economic Caucus Meets with Representatives of Association International Transport
The Head and members of the Economic Caucus met today, at the National Assembly House, with the representatives of International Transport, business association of international cargo transporters.
---
Opening the meeting, the Head of the Economic Caucus, Prof. Dr Vladimir Marinkovic, briefed the guests on the group's tasks and objectives viz. promoting institutional reform accompanied by active cooperation with the economy.

"We wish to create a good business environment and improve the key factors of Serbia's economic development, so the goal of today's meeting is finding the best solution for the problem the association has when claiming cost reimbursement for time spent in foreign business travel", said Marinkovic.

Namely, the members of the Association complained of a problem stemming from the implementation of Article 118 of the Labour Law, in force until the Law amending and modifying the Labour Law came into force.

Following a constructive debate, the Caucus members supported the initiative of MP Zoran Babic to organise a meeting with the representatives of the Ministry of Labour, Employment, Veteran and Social Affairs and the Ministry of Public Administration and Local Self-Government, so as to draft an authentic interpretation of the disputed article of the Law and open a reasonable dialogue on the problem.

In addition to the Head of the Economic Caucus, Prof. Dr Vladimir Marinkovic, the meeting was attended by Caucus members Zoran Babic and Dejan Radenkovic, National Assembly Deputy Speaker Veroljub Arsic and MP Nedjo Jovanovic.


---
---
friday, 27 january
8.30 - the National Assembly Speaker meets with the EP Rapporteur for Serbia and a member of the EU - Serbia SAPC delegation (National Assembly House, 13 Nikola Pasic Square, hall 1)

9.00 - sitting of the Committee on the Judiciary, Public Administration and Local Self-Government (National Assembly House, 13 Nikola Pasic Square, hall 2)

10.00 - the MPs meet with the EP Rapporteur for Serbia and a member of the EU - Serbia SAPC delegation (National Assembly House, 13 Nikola Pasic Square, Small Hall)

12.15 - press conference of MP Prof. Dr Tamara Milenkovic Kerkovic (National Assembly House, 13 Nikola Pasic Square, Central Hall)