National Assembly of the Republic of Serbia / Activities / Activity details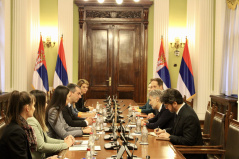 23 November 2022 The National Assembly Speaker in meeting with the UK Foreign Office Director General for Europe
Wednesday, 23 November 2022
Dr Orlic with UK Foreign Office Director General for Europe: Belgrade Defends Peace
The Speaker of the National Assembly of the Republic of Serbia Dr Vladimir Orlic met today with the UK Foreign Office Director General for Europe Julian Braithwaite to discuss the continuation of bilateral and interparliamentary cooperation, current political events and the situation in Serbia's southern province.
---
The officials declared the bilateral relations between the two countries good, with room for further improvement primarily through the intensification of top-level political dialogue.
Braithwaite welcomed the formal establishment of the Parliamentary Friendship Group with the United Kingdom in the National Assembly of the Republic of Serbia, expressing his belief that the already good communication between the two parliaments would continue through its work and contributions. The meeting was also attended by Nevena Djuric, the newly-elected Head of the PFG with the UK.
Dr Orlic informed the guest about the recent talks in Brussels, the situation in Kosovo-Metohija and the irrational behaviour of Albin Kurti. "It is patently clear, as you can see from Mr. Borrell's statement, which side really cares about preserving peace and who is behaving irresponsibly and openly calls for escalation. Belgrade has been defending peace all this time and Kurti refuses any agreement. As Mr Borrell openly said: President Vucic accepted the proposals of the European Union, but Kurti did not. Extremists who do not want peace are harassing Serbs in Kosovo-Metohija, threatening them with fines, confiscation of property, sending heavily armed so-called "special forces" to the north and the people can no longer tolerate it. For almost a decade, we have been waiting for the realisation of ZSO as a basic obligation from the Brussels Agreement, and now we hear Kurti openly saying that it will not happen. This is clear proof of irresponsibility and an openly destructive attitude," said the National Assembly Speaker. Braithwaite welcomed Belgrade's active participation in the negotiations, expressed constructiveness and willingness to compromise. "Kosovo has been a difficult topic for decades, but it is important that Belgrade remains committed to dialogue and reducing tensions, which you proved in Brussels," said Braithwaite.
In the course of the meeting, the officials expressed commitment to further deepening and strengthening cooperation between the two countries in all areas of mutual interest.
---
Photo gallery
---
---
monday, 11 december
10.00 - Deputy Chairperson of the Committee on Human and Minority Rights and Gender Equality Natasa Tasic Knezevic speaks at the conference Business and Human Rights (National Assembly House, 13 Nikola Pasic Square, Small Hall)

10.00 - the PFG with Israel meets with the representatives of the Israeli Embassy in Serbia (National Assembly House, 13 Nikola Pasic Square, library)

14.30 - press conference of MP Aleksandar Jerkovic (National Assembly House, 13 Nikola Pasic Square, Central Hall)