National Assembly of the Republic of Serbia / Activities / Activity details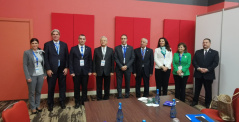 14 October 2022 The National Assembly Speaker and the Speaker of the House of Representatives of the Parliament of the Arab Republic of Egypt
Friday, 14 October 2022
Dr Orlic and Egyptian House of Representatives Speaker: Two Countries Share Decades of Friendship and Historical Ties
The Speaker of the National Assembly of the Republic of Serbia Dr Vladimir Orlic met today in Kigali, on the sidelines of the 145th Assembly of the Inter-Parliamentary Union, with the Speaker of the House of Representatives of the Parliament of the Arab Republic of Egypt Dr Hanafy El-Gebaly.
---
"The bilateral relations between Serbia and Egypt have entered their 12th decade and are an example of two friendly countries sharing historical ties and of the closeness of two peoples," stressed the Serbian Assembly Speaker at the beginning of the meeting, adding that the historic visit of President Abdul Fattah Al-Sisi to Serbia in July of this year during which the two countries signed a Joint Declaration on the establishment of a strategic partnership, gave the already excellent bilateral cooperation vital incentive for further improvement.
The officials opined that the previous years' high level of interparliamentary cooperation was contributed to by an exchange of visits, as well as the existence of friendship groups in both parliaments.
As Dr Orlic pointed out, Serbia is ready to further strengthen economic relations and trade exchange with Egypt. The meeting also touched on the improvement of cooperation in the fields of education, tourism and agriculture.
---
Photo gallery
---
---
| M | T | W | T | F | S | S |
| --- | --- | --- | --- | --- | --- | --- |
| 27 | 28 | 29 | 30 | 1 | 2 | 3 |
| 4 | 5 | 6 | 7 | 8 | 9 | 10 |
| 11 | 12 | 13 | 14 | 15 | 16 | 17 |
| 18 | 19 | 20 | 21 | 22 | 23 | 24 |
| 25 | 26 | 27 | 28 | 29 | 30 | 31 |
saturday, 2 december
No announcements for selected date