National Assembly of the Republic of Serbia / Activities / Activity details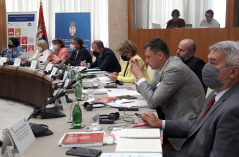 31 August 2021 Participants of the social dialogue
Tuesday, 31 August 2021
Dr Milorad Mijatovic Presents SDGs Focus Group Activities at Social Dialogue on Sustainable Development Goals
MP Dr Milorad Mijatovic, coordinator of the National Assembly's Sustainable Development Goals Focus Group, took part in the social dialogue on "Sustainable Development Goals – Zero Hunger, Good Health and Quality Education", organised by the Ministry for Human and Minority Rights and Social Dialogue. On behalf of the National Assembly, the dialogue was also attended by Deputy Speaker Academician Muamer Zukorlic and MP Samir Tandir.
---
Gordana Comic, Minister for Human and Minority Rights and Social Dialogue, Françoise Jacob, UN Resident Coordinator in Serbia, Milena Altmajer, GIZ project leader, Dragana Djokovic Papic, head of the SDGs Department at the Republic Statistical Office, and Prof. Dr Marija Babovic, SDG expert, gave the keynote speeches.
Addressing the attending, Dr Mijatovic outlined the work of the Focus Group, with a special focus on its control mechanisms, stressing the importance of discussing food distribution, health and education in our society. He asked the representatives of the Ministry of Education, Science and Technological Development about the concrete activities conducted to ensure free and compulsory secondary education, one of the targets of SDG 4.
The dialogue was attended by representatives of relevant ministries, heads of administrative districts, mayors and municipal presidents, as well as representatives of the Chamber of Commerce, international organisations, associations and individuals.
---
---