National Assembly of the Republic of Serbia / Activities / Activity details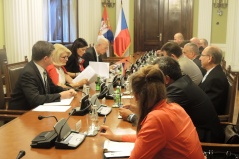 21 September 2015 The Chairperson and the members of the Defence and Internal Affairs Committee in meeting with the delegation of the Committee on Foreign Affairs of the Czech Parliament's Chamber of Deputies
Monday, 21 September 2015
Defence and Internal Affairs Committee Chairperson and Members Meet with Delegation of Czech Parliament's Chamber of Deputies Committee on Foreign Affairs
The Chairperson and members of the Defence and Internal Affairs Committee met today, at the National Assembly House, with a delegation of the Committee on Foreign Affairs of the Czech Parliament's Chamber of Deputies.
---
Committee Chairperson Marija Obradovic said she was sure the Czech parliamentarians' visit will have a positive impact, adding that the National Assembly enjoys intense cooperation with the Czech Embassy in Belgrade.

The meeting focused on the security challenges in the Western Balkans, normalisation of relations between Belgrade and Pristina and the migrant crisis.

Obradovic opined that at the moment there are no security challenges which could in any way jeopardize the stability of the country, and regarding the migrant crisis she said that it is Serbia's chief goal to ensure the migrants safe passage through its territory, adding that so far there have been no security incidents.

The Chairman of the Czech Parliamentary Committee on Foreign Affairs Karel Schwarzenberg said that he believed that Serbia's exemplary treatment of the migrant crisis would be well accepted by the European Union and speed up Serbia's European integration process, which the Czech Republic fully supports.

"Regional stability is one of Serbia's priorities, one Prime Minister Aleksandar Vucic has invested all his efforts into and is followed by all the state authorities. He proved it by his stance after the incident in Srebrenica, he had extended the hand of reconciliation and again stabilised the relations", stressed Obradovic.

Schwarzenberg said that he recognises the effort behind the Prime Minister's decision to visit Srebrenica:

"That was a difficult task and one we all admire", stressed Schwarzenberg.

Speaking of the relations between Belgrade and Pristina, the Defence and Internal Affairs Committee Chairperson said that it is a priority task for Serbia, one tackled at the diplomatic level and in the field, among the people, building ties through sports, culture and economy.

The meeting was also attended by Defence and Internal Affairs Committee members Borisav Kovacevic and Jasmina Obradovic, and Czech Parliamentary delegation members Jaroslav Foldyna, Leo Luzar, Pavel Plzak and Jiri Mihola.


---
---
| M | T | W | T | F | S | S |
| --- | --- | --- | --- | --- | --- | --- |
| 27 | 28 | 29 | 30 | 31 | 1 | 2 |
| 3 | 4 | 5 | 6 | 7 | 8 | 9 |
| 10 | 11 | 12 | 13 | 14 | 15 | 16 |
| 17 | 18 | 19 | 20 | 21 | 22 | 23 |
| 24 | 25 | 26 | 27 | 28 | 29 | 30 |
| 31 | 1 | 2 | 3 | 4 | 5 | 6 |
thursday, 6 august
No announcements for selected date