National Assembly of the Republic of Serbia / Activities / Activity details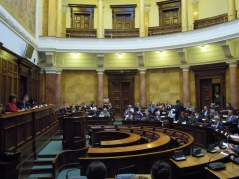 Thursday, 23 May 2013
Committee on the Diaspora and Serbs in the Region Organises Public Hearing
Today, the National Assembly House hosted a public hearing on: Serbia and the Diaspora - How to Boost Cooperation, organised by the Committee on the Diaspora and Serbs in the Region.
---
The public hearing was opened by the Chairman of the Committee on the Diaspora and Serbs in the Region, Aleksandar Cotric, who stressed that the point of the debate is to come up with proposals and conclusions on how to improve the laws passed by the National Assembly which affect the Serbian diaspora. Cotric hopes that meetings such as this one will help generate advantages to attract more foreign investment into Serbia and increase the diaspora's participation in privatisations and in Serbia's social and political life. This will also contribute to Serbia's approach to European integration and partnership with the countries where Serbian expats live, as well as facilitate their gaining Serbian citizenship, keep the Serbian diaspora better informed, facilitate their learning their mother tongue and maintaining their identity.
The Director of the Office for Cooperation with the Diaspora and Serbs in the Region, Dr Slavka Draskovic said that about three million Serbs live in the diaspora which is a great potential, adding that one of the tasks of this meeting is to recognise and use said potential. She stressed that the diaspora and its reputation and contacts can be Serbia's ambassadors abroad and help it regain its reputation. Draskovic also announced that an action plan will soon be adopted for the implementation of the Strategy for promoting and strengthening the relationship between the mother country and the diaspora and the mother country and Serbs in the region for 2013 and 2014, all aimed at strengthening the ties between Serbia and its diaspora.
Successful businessmen of Serbian origin from the US, Germany, Austria, Australia, Canada, Russia, UK and Finland spoke of possible modes of future cooperation between the diaspora and Serbia. They stressed that it is necessary to define the goals of said cooperation and create conditions suitable for foreign investment.
The participants were also addressed by Dejan Radulovic, Assistant Minister of Regional Development and Local Self-Government, Dr Biljana Hroneos Krasavac, special advisor for international financial institutions at the Ministry of Finance and Economy, Zoran Perisic, Mayor of Nis, Milan Cupric, Head of the Plant Production Department at the Ministry of Agriculture, Forestry and Water Management, Filip Kuntic, senior advisor for foreign investment of the Serbian Investment and Export Promotion Agency (SIEPA), Djordje Stanicic, Secretary General of the Standing Conference of Towns and Municipalities and Srdjan Boskovic, adviser at the Serbian Chamber of Commerce Centre for the Diaspora.
The gathering was attended by MPs, ambassadors, representatives of international organisations, business associations and NGOs.
The public hearing was organised with the support of the United Nations Development Programme (UNDP) project "Strengthening the Oversight Role and Transparency of the National Assembly", financed by the Swiss Agency for Development and Cooperation and with the support of the Office for Cooperation with the Diaspora and Serbs in the Region.

---
Committees related to this activity
---
---
tuesday, 23 april
8.30 - sitting of the Committee on Labour, Social Issues, Social Inclusion and Poverty Reduction (National Assembly House, 13 Nikola Pasic Square, hall 4)

9.00 - sitting of the Committee on Constitutional and Legislative Issues (National Assembly House, 13 Nikola Pasic Square, hall 2)

9.00 - sitting of the Defence and Internal Affairs Committee (National Assembly House, 13 Nikola Pasic Square, hall 3)

9.00 - sitting of the Committee on Finance, State Budget and Control of Public Spending (National Assembly House, 13 Nikola Pasic Square, hall 4)

9.30 - sitting of the Committee on the Economy, Regional Development, Trade, Tourism and Energy (National Assembly House, 13 Nikola Pasic Square, hall 4)

9.30 - sitting of the Committee on the Judiciary, Public Administration and Local Self-Government (National Assembly House, 13 Nikola Pasic Square, hall 3)

10.00 - continuation of the Fourth Sitting of the First Regular Session of the National Assembly of the Republic of Serbia in 2019 (National Assembly House, 13 Nikola Pasic Square)

10.00 - sitting of the Committee on Spatial Planning, Transport, Infrastructure and Telecommunications (National Assembly House, 13 Nikola Pasic Square, hall 2)

11.00 - press conference of MPs Jovan Jovanovic and Sonja Pavlovic (National Assembly House, 13 Nikola Pasic Square, Central Hall)

12.00 - sitting of the Committee on Spatial Planning, Transport, Infrastructure and Telecommunications (National Assembly House, 13 Nikola Pasic Square, hall 2)