National Assembly of the Republic of Serbia / Activities / Activity details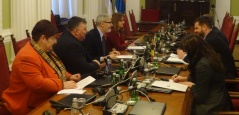 18 December 2015 The Committee on Human and Minority Rights and Gender Equality in meeting with the delegation of the Romanian Ministry in charge of the affairs of the Romanian diaspora
Friday, 18 December 2015
Committee on Human and Minority Rights and Gender Equality Meets with Delegation of Romanian Ministry in Charge of Romanian Diaspora
The Chairman, Meho Omerovic, and members of the Committee on Human and Minority Rights and Gender Equality met today, at the National Assembly House, with a delegation of the Romanian Ministry in charge of the affairs of the Romanian diaspora, headed by Minister Dan Stoenescu.
---
Meho Omerovic, Chairman of the Committee on Human and Minority Rights and Gender Equality, congratulated the 25th anniversary of the establishment of the Romanian community in Serbia, stressing that the good-neighbourly relations between the two countries in the region could serve as an example to others. Omerovic also emphasised the importance of Romania's experience as a member of the European Union for Serbia, which is well-aware of the significance of the opinion of the countries in the region for its EU accession process.

The Committee Chairman briefed the delegation of the Romanian Ministry on the Committee's activities, mentioning last year's elections for national minority councils and adding that dialogue is the only way to overcome the challenges the minorities come up against.

Minister Dan Stoenescu thanked Serbia on the behalf of Romanians in eastern Serbia and in Vojvodina, stressing that the national minorities of Romanians in Serbia and Serbs in Romania are bridges of cooperation, and adding that Serbia has Romania's full support as regards EU accession. Stoenescu also stressed that Romania considers it very important that there are schools in Serbia where children are taught in Romanian and freedom of religion, especially in eastern Serbia and Vojvodina.

The meeting also touched on the issue of the Vlach national minority. Omerovic said that the laws governing minority issues in Serbia have been passed in accordance with highest international standards and Serbia cannot hinder its citizens' right to free expression of nationality. Dan Stoenescu mentioned the opening of a Romanian institute in Belgrade which could enable the citizens of Serbia to learn more about Romanian culture.

The officials agreed to invest further efforts into improving the position of national minorities at the political and social level and take concrete steps toward achieving these goals, especially once Serbia opens Chapter 23.

Committee member Slobodan Peric, as a member of the Vlach national minority, had some suggestions about how to address the outstanding issues, underlining the need for cooperation between the two countries, which could be furthered by Romanian investments and assistance in the construction of roads, schools and other institutions lacking in eastern Serbia.

Besides Minister Stoenescu, the Romanian delegation also comprised Romanian Ambassador in Serbia Daniel Banu, Assistant Minister Valentin Raducanu, Assistant Minister Cristina Gabriela Simion, Second Secretary of the Romanian Embassy in Serbia Alexandru Petrut, and Gabriela Moldovan of the Romanian Embassy in Serbia. On the behalf of the Committee on Human and Minority Rights and Gender Equality the meeting was also attended by Deputy Chairperson Ljiljana Malusic and Committee member Milanka Jevtovic Vukojicic.


---
---
friday, 21 january
13.00 - meeting of the Inter-Party Dialogue Control Body (National Assembly House, 13 Nikola Pasic Square, hall 1)