National Assembly of the Republic of Serbia / Activities / Activity details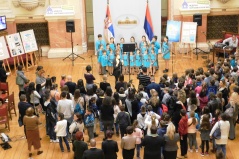 15 November 2017 Children's Day at Parliamentary Week
Wednesday, 15 November 2017
Children's Day at Parliamentary Week
The event Children's Day, organised at the National Assembly House under the auspices of Parliamentary Week, was opened by the Deputy Chairperson of the Committee on the Rights of the Child Milena Bicanin.
---
Bicanin welcomed the students of elementary schools from all over Serbia telling them that children and adults are one and that children should remind the adults of the importance of the community.
"The National Assembly House is the place where decisions crucial for all the citizens of the country are made, and the family is the place where the most important decisions for your life are made", said Bicanin.
Dalibor Stojanovic of the Children's Cultural Centre also addressed the attending and presented the youngest participants, the choir of the Children's Cultural Centre who had a mini concert at the National Assembly Central Hall, and the attendees of the Children's Cultural Centre School of comic strips and caricature who presented their work on "How I see the parliament".
Under the auspices of Children's Day, the students of four elementary schools took part in the Little Assembly workshop and toured the edifice of the National Assembly House.


---
---
saturday, 4 february
8.30 - sitting of the Committee on Education, Science, Technological Development and the Information Society (National Assembly House, 13 Nikola Pasic Square, hall 3)

9.00 - sitting of the Committee on Labour, Social Issues, Social Inclusion and Poverty Reduction (National Assembly House, 13 Nikola Pasic Square, hall 4)

9.00 - sitting of the Defence and Internal Affairs Committee (National Assembly House, 13 Nikola Pasic Square, hall 2)