National Assembly of the Republic of Serbia / Activities / Activity details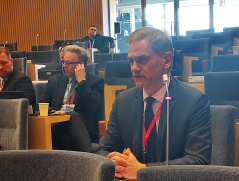 3 March 2023 National Assembly Deputy Speaker and Foreign Affairs Committee Chairman Borko Stefanovic at the EU Interparliamentary Conference
Friday, 3 March 2023
Borko Stefanovic Calls on European Union to Speed Up EU Accession for Countries in Region
In his speech at the EU Interparliamentary Conference, session dedicated to the priorities of the European Union's foreign and security policy, National Assembly Deputy Speaker and Foreign Affairs Committee Chairman Borko Stefanovic called for the acceleration of the integration process and concrete steps towards the inclusion of Serbia and the entire Western Balkans region in European Union.
---
He thanked the Union for its past support of Serbia, especially in terms of energy diversification, pointing to the contribution Serbia provides to the Common Foreign and Security Policy. Stefanovic stressed that the Republic of Serbia fully supports the territorial integrity and sovereignty of both Ukraine and any other country.
In his response, Stefano Sannino, Secretary-General of the European External Action Service of the European Union, emphasized Serbia's great efforts on the path to European integration, expressing hope that the processes would be accelerated in the coming period. He pointed to the European Union's recent financial support to Serbia for the construction of a high-speed railway between Belgrade and Nis, as well as for support to Serbia's energy system.
The National Assembly delegation is taking part in the Interparliamentary Conference on the Common Foreign and Security Policy and the Common Security and Defence Policy of the European Union, organised by the Parliament of Sweden, in cooperation with the European Parliament, within the framework of the Swedish presidency of the Council of the European Union, in Stockholm, on 2 and 3 March 2023.
---
---
wednesday, 4 october
9.00 - sitting of the Committee on Finance, State Budget and Control of Public Spending (National Assembly House, 13 Nikola Pasic Square, hall 2)

10.00 - the National Assembly Speaker meets with the Chinese Ambassador to Serbia (National Assembly House, 13 Nikola Pasic Square, hall 1)

12.00 - sitting of the Culture and Information Committee (National Assembly House, 13 Nikola Pasic Square, hall 4)