National Assembly of the Republic of Serbia / Activities / Activity details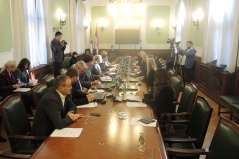 4 November 2015 19th meeting of the National Assembly Economic Caucus
Wednesday, 4 November 2015
19th Meeting of National Assembly Economic Caucus
The members of the Economic Caucus received the Israeli Ambassador to Serbia H.E. Yossef Levy and the Serbia-Israeli Economic Association (SIPA), at the National Assembly House, to discuss economic cooperation and strengthening trade and investment potentials.
---
The Head of the Economic Caucus, Prof. Dr Vladimir Marinkovic welcome the Israeli Ambassador and the Serbia-Israeli Economic Association saying that Serbia has a lot to learn from Israel.
"I wish our parties cooperated more with the Knesset, and that we boosted economic cooperation as well as cooperation in the fields of education, new technologies and science, and did all we could to strengthen the ties between Israel and Serbia", said Marinkovic. The Head of the Economic Caucus said that the Serbia imports 15 million EUR worth of Israeli goods and exports seven million EUR worth of goods into Israel, which is not the best picture of trade. Marinkovic said that he not only wanted to invite Israeli investors to Serbia, but also wanted to invite them to develop infrastructure, agriculture and high technologies together, adding that Serbia has a lot to offer. "Serbia has 13 official agreements with Israel, and we stand ready to promote economic and financial cooperation in the future", said Marinkovic.
The Israeli Ambassador said he saw a lot of potential in Serbia, but Serbia has to put in some effort to make sure that potential is used in the best way possible. "I truly believe in the Serbian economy and I believe that people are the country's biggest potential. Israel is prepared to invest in people. Our specialties are the development of high military technology and high industrial and aviation technology. Serbia earns 45 million per annum from export, whereas Israel earns 205 million, which is a shame because Israel is four times smaller than Serbia. The fact that the Israeli know so little about Serbia is a big problem, so it is our goal to change the situation." Levy suggested that the members of the Economic Caucus should meet with the Israeli investors already doing business in Serbia and discuss potential business cooperation.
Economic Caucus member Zoran Babic thanked the guests for their visit and stressed that Serbia wants to develop close cooperation with Israel in the field of education, and that it also has vast infrastructural, energy and agricultural potential. "Our farmers' big mistake is the fact that they export their produce directly from the field instead of processing it first. Serbia has drifted into a stupor because we have been told for years that we have the best food, best climate, but it is time to wake up and get working because things don't happen all by themselves", said Babic.
The meeting was attended by the President of the Serbia-Israeli Economic Association Darko Trifunovic and members Danijel Bogunovic, Bojan Ratkovic, Zoran Stojkovic and Nina Kuburovic, and representatives of NALED and IRI Jelena Bojovic, Slobodan Krstovic and Biljana Ljubic.
---
---
friday, 27 january
8.30 - the National Assembly Speaker meets with the EP Rapporteur for Serbia and a member of the EU - Serbia SAPC delegation (National Assembly House, 13 Nikola Pasic Square, hall 1)

9.00 - sitting of the Committee on the Judiciary, Public Administration and Local Self-Government (National Assembly House, 13 Nikola Pasic Square, hall 2)

10.00 - the MPs meet with the EP Rapporteur for Serbia and a member of the EU - Serbia SAPC delegation (National Assembly House, 13 Nikola Pasic Square, Small Hall)

12.15 - press conference of MP Prof. Dr Tamara Milenkovic Kerkovic (National Assembly House, 13 Nikola Pasic Square, Central Hall)