National Assembly of the Republic of Serbia / Activities / Activity details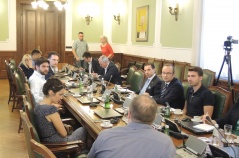 7 July 2015 15th meeting of the National Assembly Economic Caucus
Tuesday, 7 July 2015
15th Meeting of National Assembly Economic Caucus
At the 15th meeting, held on 7 July, the Economic Caucus continued the discussion on the topic voucherisation of education, presented at the 13th meeting by the members of the Libertarian Club (LIBEK) Milos Nikolic and Mihailo Gajic.
---
As explained by the members of LIBEK, the idea behind voucherisation is to have the students themselves choose what school they enrol in, using vouchers provided by the Ministry of Education, Science and Technological Development. A uniform enrolment would be ensured through enrolment lotteries.

The idea stems from the fact that, while the number of children in Serbian schools is decreasing, the numbers of teaching staff are on the rise. The teachers cannot achieve a full teaching schedule. Education has to be more efficient and better connected with the economy, stated the representatives of LIBEK.

The meeting was attended by Minister of Education, Science and Technological Development Srdjan Verbic who said that the issue of public-private partnership needs to be resolved before voucherisation can be conducted. The Minister also added that comparative practice examples should be analysed, with a special focus on the countries where the voucherisation system failed to yield the expected results and opined that the education in Serbia should undergo market orientation.

In addition to the members of the Caucus, the meeting was also attended by representatives of NALED and IRI.

The Head of the Economic Caucus, Prof. Dr Vladimir Marinkovic presided over the meeting.


---
---
saturday, 16 october
No announcements for selected date