National Assembly of the Republic of Serbia / Activities / Activity details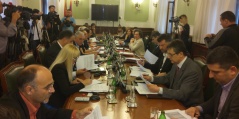 27 May 2015 Participants of the 12th meeting of the National Assembly Economic Caucus
Wednesday, 27 May 2015
12th Meeting of National Assembly Economic Caucus
At the meeting held on 27 May, the members of the Economic Caucus discussed the salaries and employment in the state administration/public sector and the proposed reforms.
---
The sitting was attended by Deputy Prime Minister and Minister of Public Administration and Local Self-Government Dr Kori Udovicki who presented the Draft Law on the Maximum Number of Public Sector Employees and the Draft Law on Public Sector Salaries. She explained that the proposed reforms aim to cut the costs in the administration and make it a better service for the citizens, which will at the same time contribute to the economic growth in the country. The Deputy Prime Minister opined that previously the administration showed little restraint and spent funds mainly on non-priority sectors. She said the objective is to set up a modern public administration, efficient and optimised in structure. The draft laws envisage the establishment of a more just and transparent salary system and cutting costs per public sector employee.

Comparative analysis has shown that the number of public sector employees is seven to every hundred citizens, which is less than in other countries. The task Serbia was set by the IMF is to cut the number to six within the next three years, and Dr Kori Udovicki believes this could be solved through rationalisation rather than dismissal of employees.

On the other hand, compared to other countries Serbia spends more per employee mostly on needless bonuses given to employees in managerial positions, said Deputy Prime Minister Dr Kori Udovicki.

She added that the public administration capacities also suffer from ministry reshufflings, opining that these require more realistic systematisation.

The participants of the meeting, members of the Economic Caucus, representatives of IRI, NALED, LIBEK and local self-government and the representatives of the Ministry of Public Administration and Local Self-Government discussed the reform at the local level and plans to rationalise the number of employees in public enterprises. They also discussed the possible introduction of job catalogue instead of the existing job systematisation, as well as the rationalisation plans for the education and healthcare sector.

The Head of the Economic Caucus, Prof. Dr Vladimir Marinkovic presided over the meeting.


---
---
monday, 30 november
9.00 - National Assembly Speaker Ivica Dacic at the online Council session and 13th Plenary Session of the Collective Security Treaty Organisation (National Assembly House, 13 Nikola Pasic Square, hall 1)

11.00 - sitting of the Environmental Protection Committee (National Assembly House, 13 Nikola Pasic Square, hall 4)

12.00 - National Assembly Speaker Ivica Dacic meets with the the Chairman of the House of Representatives of the Parliamentary Assembly of Bosnia and Herzegovina Nebojsa Radmanovic (National Assembly House, 13 Nikola Pasic Square, hall 1)

12.45 - press conference of National Assembly Speaker Ivica Dacic and the Chairman of the House of Representatives of the Parliamentary Assembly of Bosnia and Herzegovina Nebojsa Radmanovic (National Assembly House, 13 Nikola Pasic Square, Central Hall)