National Assembly of the Republic of Serbia / Activities / Activity details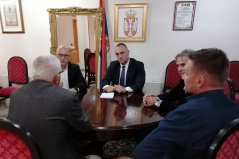 22 May 2021 National Assembly delegation in official visit to Albania
Monday, 24 May 2021
Vujadinovic Visits Serbs in Albania - We Will Do Our Best to Help Them Preserve Their Serbian Name
Over the weekend, the Chairman the Committee on the Diaspora and Serbs in the Region of the National Assembly of the Republic of Serbia Milimir Vujadinovic paid an official visit to Albania, where he met with representatives of Serbian associations in Tirana and Shkodra.
---
At the Serbian Embassy in Tirana, he talked with compatriots from the association "Skadarlija" from Tirana, headed by Salko Brajovic, Serb from Shkodra.
"It is very difficult to be a Serb and preserve the Serbian name in Albania today. If Serbs in Albania, of whom there are thousands, enjoyed at least half of the rights enjoyed by Albanians in Serbia, they would be overjoyed. We will do everything we can to help them preserve their name and centuries-old presence in Albania", Vujadinovic said.
The city of Shkodra, celebrated in many Serbian folk songs, is home to a small Serbian community today that desperately and painstakingly preserves its name and culture, resisting many pressures, through the Serbian association "Moraca-Rozafa". Vujadinovic was welcomed by Pavle Jakoja Brajovic, Zoran Ajkovic and Loreta Hajkoja, members of the Serbian minority and citizens of Serbia.
"We will do our best to help them preserve their Serbian name, as well as to encourage others to speak clearly and without fear about their Serbian origin. In the end, all things considered, you understand how serious Mother Serbia has been in recent years and how proud they are of Serbia's growth, because its growth and progress is also their progress", said Vujadinovic.
He added that he would convey the impressions of the visit to the authorities of the Republic of Serbia, as well as the Republic of Srpska, of which the Serbs in Albania are extremely proud.
Radoslav Vujovic, Assistant Secretary General of the National Assembly, Head of the Legislation Sector, also visited Albania with Vujadinovic. After Albania, the National Assembly delegation continued its visit by going to Montenegro.
---
---
monday, 6 december
10.00 - public hearing on the Presentation of the Draft Trade Strategy of the Republic of Serbia by 2025 (National Assembly Building, 14 Kralja Milana Street, Grand Hall)

12.00 - the National Assembly Speaker meets with the Egyptian Ambassador to Serbia (National Assembly House, 13 Nikola Pasic Square, diplomatic salon of Prince Pavle Karadjordjevic)

13.00 - continuation of the sitting of the Committee on the Economy, Regional Development, Trade, Tourism and Energy (National Assembly Building, 14 Kralja Milana Street, Grand Hall)

14.00 - sitting of the Committee on Constitutional and Legislative Issues (National Assembly House, 13 Nikola Pasic Square, hall 2)