National Assembly of the Republic of Serbia / Activities / Activity details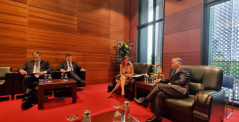 15 September 2023 The National Assembly delegation at the 9th Global Conference of Young Parliamentarians
Friday, 15 September 2023
Vietnam to Continue to Pursue Consistent Policy on Kosovo-Metohija
National Assembly delegation is taking part in the 9th Global Conference of Young Parliamentarians, 15-17 September 2023, in Hanoi. The delegation is headed by MP Andrijana Avramov and includes Nikola Dragicevic, Head of the Parliamentary Friendship Group with Vietnam.
---
The theme of the Conference is "The Role of Youth in Promoting the Realization of Sustainable Development Goals through Digital Transformation and Innovations". Andrijana Avramov took part in the debate, emphasising the importance the Republic of Serbia attaches to digital transformation and presenting the activities of the National Assembly, especially those of the previous legislature's Subcommittee on the Information Society and Digitalisation.
The participation in the Conference was a good opportunity for a meeting with the Deputy Chairman of the Foreign Affairs Committee of the National Assembly of Vietnam Dr Don Tuan Phong. In the course of the meeting, Andrijana Avramov thanked Vietnam for its principled support of Serbia's sovereignty and territorial integrity, as well as for the support for the country's accession to the ASEAN Treaty of Amity and Cooperation. She also emphasised the importance of advancing political dialogue, economic cooperation and trade between the two countries. Nikola Dragicevic agreed about the importance of the support on the Kosovo-Metohija issue, stressing the importance of the work of the PFG with Vietnam for the development of bilateral relations and hoping for an exchange of parliamentary visits in the coming period. On the other hand, Dr Don Tuan Phong underlined that Vietnam has not recognised the independence of so-called Kosovo and would continue to pursue a consistent policy in that respect. He also stressed that the two countries should continue to work on developing friendly relations, wherein the opening of embassies would be the next logical step.
The Conference is attended by over 300 MPs from 60 parliamentary delegations from all over the world, with the presence of high dignitaries of the Inter-Parliamentary Union, United Nations and numerous international NGOs.
---
---
thursday, 28 september
10.30 - press conference of the MPs of the Serbian Party Oathkeepers; SERBIAN MOVEMENT DVERI – PATRIOTIC BLOC and People's Party parliamentary groups (National Assembly House, 13 Nikola Pasic Square, Central Hall)

11.00 - sitting of the Committee on Education, Science, Technological Development and the Information Society (National Assembly House, 13 Nikola Pasic Square, hall 3)

11.00 - sitting of the Committee on the Economy, Regional Development, Trade, Tourism and Energy (National Assembly House, 13 Nikola Pasic Square, hall 4)

12.00 - sitting of the Committee on the Economy, Regional Development, Trade, Tourism and Energy (National Assembly House, 13 Nikola Pasic Square, hall 4)

15.00 - the Deputy Chairperson of the European Integration Committee meets with Moldovan delegation (National Assembly House, 13 Nikola Pasic Square, hall 2)