National Assembly of the Republic of Serbia / Activities / Activity details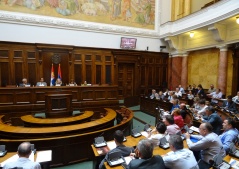 2 September 2015 Participants of the third meeting of the Serbian Parliamentary Energy Policy Forum
Wednesday, 2 September 2015
Third Meeting of the Serbian Parliamentary Energy Policy Forum
The National Assembly House hosted the third meeting of the Serbian Parliamentary Energy Policy Forum in the form of a public debate on the Proposal of the Republic of Serbia Energy Development Strategy until 2025 with projections until 2030.
---
The meeting was opened by the Chairperson of the Serbian Parliamentary Energy PolicyForum and Chairperson of the Committee on the Economy, Regional Development, Trade, Tourism and Energy, Prof. Dr Aleksandra Tomic, who stressed that without a good energy policy there can be no economic development.
She said that Serbia has fulfilled all of the legislative obligations relating to energy policy, reminding the assembly that a new Energy Law was passed in late 2014, adjusted to the Third Package of EU directives, as was the restructuring plan for Srbijagas PE, demonstrating Serbia's readiness to fully adjust its energy policy to the EU policy.
However, Aleksandra Tomic said, the issues such as the price of energy generating products, security of supply and the legal and environmental standards remain open, and concluded that the parliament's role in the sphere of energy should be strengthened in order to resolve these issues as soon as possible.
The Committee Chairperson hopes that the recommendations of today's forum will contribute to the formulation of documents which would give shape to Serbia's energy policy.
Mirjana Filipovic, State Secretary at the Ministry of Mining and Energy, presented the Serbian Energy Development Strategy, stressing that it is paramount to define the realisation plan for the Strategy.
The participants of the Forum were also addressed by the Director of the Secretariat of the Energy Community Janez Kopac who spoke about the EU energy policy, where the most important issue right now is security of supply.
The President of Elektroprivreda Srbije EB and dean of the Faculty of Electrical Engineering Prof. Dr Branko Kovacevic drew attention to the unused potential of hydropower and Serbia's other energy potentials and the need to integrate different renewable energy sources.
Sonja Licht, President of the Belgrade Fund for Political Excellence, spoke of the role of civil society in the creation of energy policy, reminding the attending that the planet's survival depends on how states deal with the issue of energy supply.
The participants of the Forum continued the debate within five task groups focusing on chapters 15 and 21 and consumer protection, electric power, renewable energy sources and energy efficiency, coal, natural gas, oil derivatives and environmental protection.
At the end of the day the participants of the Parliamentary Forum formulated recommendations which will be sent to the relevant ministries of the Government of the Republic of Serbia.
The meeting was chaired by Prof. Dr Aleksandra Tomic, Chairperson of the

Serbian Parliamentary Energy Policy

Forum.
---
---