National Assembly of the Republic of Serbia / Activities / Activity details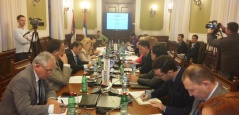 10 December 2014 Third meeting of the National Assembly's Economic Caucus
Wednesday, 10 December 2014
Third Meeting of National Assembly Economic Caucus
At the third meeting of the National Assembly's Economic Caucus, the informal parliamentary group discussed the Draft Law on Inspection Control and Draft Law amending and modifying the Energy Law.
---
In addition to the Head of the Economic Caucus Prof. Dr Vladimir Marinkovic and Caucus members MPs Zoran Babic, Dr Aleksandra Tomic, Milosav Milojevic and Dr Vladimir Pavicevic, the meeting was attended by representatives of IRI, NALED and USAID, entrepreneurs and company representatives.
The Head of the Economic Caucus Prof. Dr Vladimir Marinkovic said it was important to maintain continued dialogue with entrepreneurs so as to ensure the best quality of the legislation regulating the economy.
NALED representative Jelena Bojovic and owner of Gomex Goran Kovacevic commented on the Draft Law on Inspection Control. They said it was an umbrella law regulating inspection control which is a huge step forward in governing inspections. They also drew attention to certain articles of the Draft Law that could stand to be improved, and suggested that it would be better to set up an Inspection Control Secretariat instead of the proposed Coordination Commission, as a standing body with authority higher than the Coordination Commission.
Ana Knezevic Bojovic of NALED and Director of Vetroelektrane Balkan Zeljko Djuric commented on the Draft Law amending and modifying the Energy Law. They said that the area of energy production should be adjusted to the EU Third Energy Package and meeting the 2020 goals, toward stimulating the production of electrical power from renewable resources and creating an environment conducive to investment. They deemed that there is room to improve some of the provisions of the Draft Law so as to harmonise it with the Law on Planning and Construction as well as improve the rules relating to privileged producers and stimulation measures, specify the provisions relating to guaranteed providers, improve the provisions enabling market liberalisation and those necessary for the implementation of the tenets of the Draft Law on Inspection Control and the stimulation of investment into sources of renewable energy. The Caucus members agreed that, considering the fact the Draft Law was withdrawn, there is room to organise a joint meeting with the relevant Ministry of Mining and Energy so that some of the mentioned suggestions might be included into the new draft law.

---
---
monday, 30 november
9.00 - National Assembly Speaker Ivica Dacic at the online Council session and 13th Plenary Session of the Collective Security Treaty Organisation (National Assembly House, 13 Nikola Pasic Square, hall 1)

11.00 - sitting of the Environmental Protection Committee (National Assembly House, 13 Nikola Pasic Square, hall 4)

12.00 - National Assembly Speaker Ivica Dacic meets with the the Chairman of the House of Representatives of the Parliamentary Assembly of Bosnia and Herzegovina Nebojsa Radmanovic (National Assembly House, 13 Nikola Pasic Square, hall 1)

12.45 - press conference of National Assembly Speaker Ivica Dacic and the Chairman of the House of Representatives of the Parliamentary Assembly of Bosnia and Herzegovina Nebojsa Radmanovic (National Assembly House, 13 Nikola Pasic Square, Central Hall)