National Assembly of the Republic of Serbia / Activities / Activity details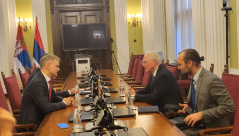 5 October 2022 The Chairman of the Foreign Affairs Committee Borko Stefanovic in meeting with the US Ambassador in Belgrade Christopher Hill
Wednesday, 5 October 2022
Stefanovic and Hill Discuss Serbia's European Path
The Chairman of the Foreign Affairs Committee Borko Stefanovic met today at the National Assembly House with the US Ambassador in Belgrade Christopher Hill.
---
Stefanovic stressed that full membership in the European Union remains Serbia's priority, which is why it has to harmonise its foreign policy with that of the European Union. He went on to say that as the Chairman of the Foreign Affairs Committee he would take the opportunity to call a Committee session to discuss the matter, after which it would be discussed at a plenary session. He also spoke about the successful visit to Washington D.C., during which the SSP delegation, headed by party president Dragan Djilas, had meetings in the State Department and the Senate, as well as the US National Security Council.
Ambassador Hill agreed that all the EU member states are obliged to follow its policy. He said that Serbia has the support of the US on the path to European integration, as well as that the US is trying to cultivate as close as possible cooperation with the European countries.
In the course of the meeting, the officials also discussed the repercussions that the possible imposition of sanctions on Russia would have on the Serbian economy, and in light of that, Stefanovic also touched on the Belgrade-Pristina relationship, saying that it can only be resolved through dialogue and that the frozen conflict is not a solution. He stressed that the comparison of the issues of Kosovo-Metohija and Ukraine is appropriate in terms of the international and security consequences of the conflict, as well as that Serbia would respect its Constitution and the will of the people regarding the status of Kosovo-Metohija.
---
---
wednesday, 4 october
9.00 - sitting of the Committee on Finance, State Budget and Control of Public Spending (National Assembly House, 13 Nikola Pasic Square, hall 2)

10.00 - the National Assembly Speaker meets with the Chinese Ambassador to Serbia (National Assembly House, 13 Nikola Pasic Square, hall 1)

12.00 - sitting of the Culture and Information Committee (National Assembly House, 13 Nikola Pasic Square, hall 4)