National Assembly of the Republic of Serbia / Activities / Activity details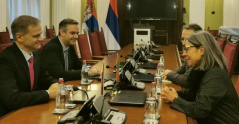 22 November 2022 The Chairman of the Foreign Affairs Committee in meeting with the Portuguese Ambassador to Serbia
Tuesday, 22 November 2022
Stefanovic Announces beginning of Intensive Interparliamentary Cooperation via Newly-Established National Assembly Friendship Groups
The Chairman of the Foreign Affairs Committee Borko Stefanovic met today at the National Assembly with the Portuguese Ambassador to Serbia H.E. Virginia Pina to discuss the work of the Committee, Serbia's foreign policy and the situation in Kosovo-Metohija.
---
At the beginning of the meeting, Stefanovic spoke of the good and constructive cooperation within the Foreign Affairs Committee, adding that the Proposal to form 161 parliamentary friendship groups in the National Assembly was adopted at the Committee's sixth meeting and asking the Ambassador to inform the Portuguese parliamentarians of the fact so as to expedite the establishment of contacts between the two countries' MPs. Stefanovic also said that he is using his position as Chairman of the Foreign Affairs Committee to meet with as many ambassadors as possible from countries that have representative offices in Serbia, in order to brief them on the initiatives that he will undertake within the National Assembly as an MP, Deputy Speaker of the National Assembly and above all Chairman of the Foreign Affairs Committee. He said that today he had submitted a Resolution Proposal moving for an urgent alignment of the foreign policy of the Republic of Serbia with the foreign policy of the European Union, which also contains a solution to reduce tensions in Serbia's southern province and which he would put on the Foreign Affairs Committee's agenda at the end of November. He pointed out that the Committee session is the ideal place to discuss two of the most important and burning topics for the Serbian people, adding that he would exercise his right as a member of parliament to submit this proposal to the National Assembly for consideration in the plenum.
Pina welcomed the Committee Chairman's initiative, saying that the European Union represents a community that shares the same values in terms of peace and democracy and that in addition to the moral condemnation of Russia's aggression against Ukraine, restrictive measures must also be taken.
The officials also discussed the media discourse on the issue of Russia in Serbia, as well as insufficient media space for politicians who do not share the opinions and attitudes of the ruling parties. Pina and Stefanovic then exchanged opinions about the large number of Russian citizens arriving mostly in Belgrade and the resulting consequences reflected to the greatest extent in the jump in real estate prices.
The Ambassador and the Committee Chairman opined that the disagreements shaking the European continent must be resolved peacefully and democratically, with a civilized approach and dialogue. At the end of the meeting, Pina said that she would pass on the invitation for the visit to the Portuguese parliamentarians and the Minister of Foreign Affairs.
---
---
| M | T | W | T | F | S | S |
| --- | --- | --- | --- | --- | --- | --- |
| 27 | 28 | 29 | 30 | 1 | 2 | 3 |
| 4 | 5 | 6 | 7 | 8 | 9 | 10 |
| 11 | 12 | 13 | 14 | 15 | 16 | 17 |
| 18 | 19 | 20 | 21 | 22 | 23 | 24 |
| 25 | 26 | 27 | 28 | 29 | 30 | 31 |
saturday, 2 december
No announcements for selected date