National Assembly of the Republic of Serbia / Activities / Activity details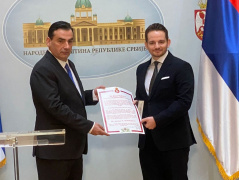 7 December 2021 Stefan Krkobabic awarded the Medal of Merit of the Royal House of Georgia
Tuesday, 7 December 2021
Stefan Krkobabic Awarded Royal House of Georgia Medal of Merit
Today, in the National Assembly House, His Royal Highness the Prince of Georgia Davit Bagration Muhranbatoni, accompanied by Princess Irina Bagration, awarded National Assembly Deputy Speaker Stefan Krkobabic with the Medal of Merit of the Royal House of Georgia.
---
The ceremony was also attended by Aleksandar Djurdjev, Rector of the Order of the Eagle of Georgia and the Seamless Tunic of our Lord Jesus Christ in Serbia, and the Chaplain of the Georgian Royal Orders in Serbia Deacon Haji Nenad M. Jovanovic, at whose proposal Krkobabic was decorated.
Indeed, we gladly accepted their nomination of the esteemed Mr. Krkobabic, whom we consider truly worthy of this recognition of our House. In this way, we would like to express our sincere gratitude for his sincere and selfless support of the efforts of our Royal House, to deepen and renew the historical, spiritual and cultural ties between our two peoples, said Prince Davit.
Krkobabic, with gratitude for the honour bestowed onto him, pointed out that Serbs and Georgians are bound by the same destiny, to preserve the independence of the state and national identity in historically turbulent areas such as the Balkans and the Caucasus. Krkobabic took the opportunity to thank Prince Davit on behalf of the state of Serbia and its citizens, as well as his own behalf, for the support that Serbia has received from Georgia in the fight to preserve its sovereignty and territorial integrity in Kosovo-Metohija. Georgia always votes in favour of the state of Serbia in international institutions when so-called Kosovo attempts to join the same, where we especially remember Georgia's vote against the admission of so-called Kosovo in UNESCO in 2015, knowing how important the Orthodox shrines in the area are for the Serbian state and people, Krkobabic pointed out.
This is the Prince of Georgia's second visit to Belgrade, where he had decorated the blessed Patriarch Irinej in 2011. Our peoples, united and inextricably linked by their common Orthodox faith, have also shared very similar historical experiences through the long centuries of their existence. Serbian-Georgian relations go back to the ancient past, the times of St.Simeon the Myrrh-bearer and St.Sava, concluded Prince Davit.
---
---
wednesday, 29 june
11.00 - the National Assembly Speaker meets with the OSCE Representative on Freedom of the Media (National Assembly House, 13 Nikola Pasic Square, hall 1)

14.45 - the National Assembly Speaker meets with the Montenegrin Prime Minister (National Assembly House, 13 Nikola Pasic Square, hall 1)