National Assembly of the Republic of Serbia / Activities / Activity details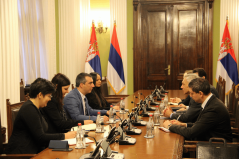 20 January 2023 The National Assembly Speaker and the Russian Ambassador to Serbia
Friday, 20 January 2023
Speaker Orlic Meets with Russian Ambassador to Serbia
The Speaker of the National Assembly of the Republic of Serbia Dr Vladimir Orlic met today with the Ambassador of the Russian Federation to the Republic of Serbia Alexander Botsan-Kharchenko. The officials exchanged opinions on the bilateral relations and parliamentary cooperation between the Republic of Serbia and the Russian Federation.
---
Speaker Orlic thanked the Russian Ambassador for the support its country provides to Serbia as regards the Kosovo-Metohija issue, and especially his personally reaction to the most recent ethnically motivated attacks on Serbs in Kosovo-Metohija.
The National Assembly Speaker and the Russian Ambassador also spoke about other issues and topics from the domain of bilateral relations between the two states.
---
Photo gallery
---
---
saturday, 4 february
8.30 - sitting of the Committee on Education, Science, Technological Development and the Information Society (National Assembly House, 13 Nikola Pasic Square, hall 3)

9.00 - sitting of the Committee on Labour, Social Issues, Social Inclusion and Poverty Reduction (National Assembly House, 13 Nikola Pasic Square, hall 4)

9.00 - sitting of the Defence and Internal Affairs Committee (National Assembly House, 13 Nikola Pasic Square, hall 2)