National Assembly of the Republic of Serbia / Activities / Activity details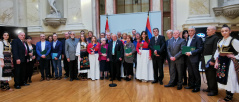 31 January 2020 The participants of the solemn academy on the 150th anniversary of the Union of Agricultural Engineers and Technicians of Serbia
Friday, 31 January 2020
Solemn Academy on the 150th Anniversary of the Union of Agricultural Engineers and Technicians of Serbia
The National Assembly House hosted a solemn academy on the 150th anniversary of the Union of Agricultural Engineers and Technicians of Serbia (SPITS) organized by MP Prof. Dr Miladin Sevarlic. On the occasion, the most deserving institutions and individuals that contributed to the development of agriculture in Serbia were presented with awards.
---
MP Prof. Dr Miladin Sevarlic said that few institutions boast such a monumental jubilee, stressing that SPITS is the oldest national umbrella organization of agricultural experts in the Republic of Serbia.
Sevarlic thanked the participants and the National Assembly House as host, opining that the jubilee would motivate younger people to join the field.
At the press conference following the award ceremony the attending were addressed by professor emeritus Dr Branka Lazic who explained that the jubilee confirms the importance of agronomists for the development of the economy of a state. Speaking of potential future problems in the field, she warned that sustainable production has to adapt to climate change and high technology.


---
---