National Assembly of the Republic of Serbia / Activities / Activity details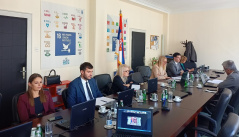 19 October 2021 The members of the Parliamentary Friendship Group with Iran
Tuesday, 19 October 2021
Serbian and Iranian PFGs Meet
The Head of the Parliamentary Friendship Group with Iran Jasmina Karanac chaired the on-line meeting between the two friendship groups of the parliaments of Serbia and Iran held on 19 October 2021.
---
In addition to the members of the Serbian and Iranian PFGs, the meeting was also attended by their excellencies the ambassadors of Serbia in Tehran Dragan Todorovic and of Iran in Belgrade Rashid Hassan Pour Baei who praised the constructive approach to the two parliaments' cooperation and further rapprochement between the two countries.
The Head of the PFG with Iran Jasmina Karanac thanked her Iranian colleagues for their country's principled position of non-recognition of the unilaterally declared independence of "Kosovo". "Our country is grateful to Iran for supporting Serbia's territorial integrity and sovereignty and the efforts to find a solution to the Kosovo-Metohija issue by peaceful and diplomatic means," Karanac said.
The MPs discussed strengthening parliamentary cooperation, possibilities for improving economic cooperation where there is good communication at the governmental level, current and future mutual support in international organisations, as well as the challenges facing the two countries in the coronavirus pandemic.
"Vaccines are certainly the main weapons in the fight against the COVID-19 pandemic and Serbia was among the first in the world to provide them in sufficient quantities," Karanac said. The participants of the meeting agreed that the health crisis has been going on for too long and that it is the government's job to take care of the health of the citizens, however, on the other hand, the economy cannot stop either.
Finally, the MPs expressed hope that the pandemic situation would improve, which would give the two countries' opportunity to further intensify cooperation in all areas.
MPs Jasmina Obradovic, Danijela Veljovic, Sanja Jefic Brankovic, Luka Kebara and Zoran Tomic also attended the meeting.
---
---
sunday, 1 october
No announcements for selected date