National Assembly of the Republic of Serbia / Activities / Activity details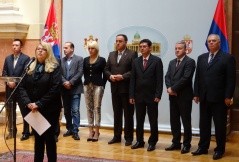 29 June 2015 Serbian Parliamentary Energy Policy Forum established
Monday, 29 June 2015
Serbian Parliamentary Energy Policy Forum Established
The Serbian Parliamentary Energy Policy Forum was established today at the National Assembly House.
---
The objective of the Energy Policy Forum is to gather all the key players in the energy sector and enable them to set up adequate communication and exchange of ideas and views on all energy matters. This will furnish the MPs with high-quality, comprehensive information, covering numerous, different views, essential in the legislative process.
"We want to open the doors to all international organisations, expert associations, the academic public, media, relevant institutions and in one place establish cooperation with the local self-governments and an exchange of energy-related experience and knowledge with countries in the region, the European Union and the world. Serbia's energy policy is about to undergo big changes which is why a group such as this one is essential, where we can broach all issues relating to Serbia's energy policy", said the Chairperson of the Forum Prof. Dr Aleksandra Tomic.
The members of the Forum, coming from almost all the parliamentary parties, are all engineers. That is why they believe they will come up with solutions and exchange ideas easily and constructively. Serbia's Parliamentary Energy Forum comprises the following MPs: Zoran Babic, Veroljub Arsic, Branislav Blazic, Ivan Bauer, Vladimir Orlic, Marjan Risticevic, Ivana Dinic, Goran Ciric, Veroljub Matic, Dragan Jovanovic, Ninoslav Stojadinovic, Prof. Dr Nebojsa Petrovic, Ivan Jovanovic and Djordje Cabarkapa.
Click
here
to watch the press conference of the Chairperson of the Forum, State Secretary at the Ministry of Mining and Energy Mirjana Filipovic, representative of the Energy Community Secretariat Predrag Grujicic and the Dean of the Faculty of Electrotechnics, University of Belgrade, Prof. Dr Branko Kovacevic.
---
---