National Assembly of the Republic of Serbia / Activities / Activity details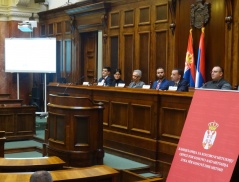 7 December 2015 Seminar on the Kosovo Triangle: Belgrade-Pristina-Brussels
Monday, 7 December 2015
Seminar Held on Kosovo Triangle: Belgrade-Pristina-Brussels
The National Assembly House hosted a seminar on the Kosovo Triangle: Belgrade-Pristina-Brussels, organised by the international NGO "Support Us" and the Office for Kosovo-Metohija.
---
The idea of the seminar was to encourage young people to discuss current issues, voice their opinions and arguments. Topics such as bringing Kosovo closer to the international community, recent results of Serbia's bilateral politics and culturological heritage were discussed with special guests and lecturers, as well as people involved in the Brussels talks.

During the first panel discussion, Milovan Drecun, Chairman of the National Assembly's Committee on Kosovo-Metohija, spoke about the current state-of-play of the process of normalisation of the relations between Belgrade and Pristina, future steps in the negotiation process and the importance of establishing the Community of Serb municipalities.

"This will be an institutionalised mechanism, which should be recognised by Pristina and the international community, in connection with Belgrade, aimed at providing Serbs in Kosovo-Metohija with prospects and protection", said Drecun. He believes it necessary to come up with a long-term constructive solution to the Kosovo problem, which is important both for Serbia's EU accession process and the overall improvement of international politics and economic development. Drecun stressed that Serbia is about to broach a number of important issues such as the return of the exiles, restitution of property and the status of the Serbian Orthodox Church.

Damjan Jovic, Deputy Director of the Office for Kosovo-Metohija, said the young people's interest in Kosovo-Metohija is a serious issue. "While the idea of Kosovo-Metohija lives within us, it will remain part of the Serbian being and Serbian state", said Jovic.

In the course of the panels "UNESCO, small procedural victory?" and "Security and NATO, what do you say about that?", the participants of the seminar were addressed by representatives of religious communities, civil society, analysts, representatives of the diplomatic corps and Pristina security corps.


---
---
| M | T | W | T | F | S | S |
| --- | --- | --- | --- | --- | --- | --- |
| 27 | 28 | 29 | 30 | 31 | 1 | 2 |
| 3 | 4 | 5 | 6 | 7 | 8 | 9 |
| 10 | 11 | 12 | 13 | 14 | 15 | 16 |
| 17 | 18 | 19 | 20 | 21 | 22 | 23 |
| 24 | 25 | 26 | 27 | 28 | 29 | 30 |
| 31 | 1 | 2 | 3 | 4 | 5 | 6 |
wednesday, 12 august
No announcements for selected date