National Assembly of the Republic of Serbia / Activities / Activity details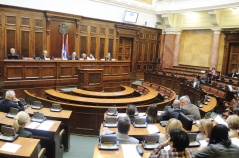 29 September 2015 Participants of the roundtable
Tuesday, 29 September 2015
Roundtable on Trans Fatty Acids, Their Adverse Health Effects and Food Legislation
On 29 September the National Assembly House hosted a roundtable organized by the Environmental Protection Committee, with the topic on "Trans fatty acids, their adverse health effects and food legislation". The roundtable was realized in cooperation with the Institute for Medical Research Centre of Research Excellence in Nutrition and Metabolism (CENM).
---
On the behalf of the Environmental Protection Committee, the chair, Dr Branislav Blazic, greeted the participants saying that today was World Heart Day and stressing that a large portion of the population in the Republic of Serbia suffers from cardiovascular diseases. "On average, 47 people in Serbia suffer a heart attack every day and 15 die, which comes out to 55 thousand lives a year. One of the reasons for it is trans-fat rich nutrition", said Blazic.

Steen Stender, head of the Copenhagen University Hospital Clinical Biochemistry Lab, said that Denmark had embarked on the fight against trans fats and regulation of the related laws in 2004 and has so far managed to lower the annual death rate related to cardiovascular diseases by a third. Stender said that Serbia needs to protect its citizens and raise awareness on the danger of products rich in trans fats.

Mirjana Gurinovic, advisor at the Centre of Research Excellence in Nutrition and Metabolism, said that there are numerous factors affecting the dietary habits of a nation and the state needs to raise the citizens' awareness about the selection of the food they eat.

Danijela Ristic Medic, CENM scientific associate, said that a daily intake of 5 grams of trans fats raises the risk of cardiovascular disease by 23%.

Marija Nestorovic, representative of Bambi company from Pozarevac, also spoke at the roundtable and said that, though most trans fats can be found in waffles and biscuits, their company has decided to follow European standards and cut trans fats from one of the leading food brands in Serbia.

Vladimir Jorga, Dean of the ECPD International Faculty of Sports, and Predrag Nenin, quality and environmental protection manager at company Dijamant, also spoke about raising awareness on the regulation of trans fats in nutrition.

Dr Branislav Blazic concluded that there is political will to submit appropriate legislation and expert staff and knowledge necessary to take further steps to reduce the adverse health effects of trans fats in nutrition.


---
---