National Assembly of the Republic of Serbia / Activities / Activity details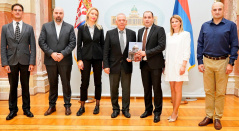 30 September 2019 Presentation of the results of project "Establishing a continuous and sustainable system of advancement of the working processes in the National Assembly Support Service"
Tuesday, 1 October 2019
Results of Project "Establishing Continuous and Sustainable System of Advancement of Working Processes in National Assembly Support Service"
The results of project "Establishing a continuous and sustainable system of advancement of the working processes in the National Assembly Support Service" realized by the National Assembly Support Service under the Grant Agreement signed with the Bulgarian Embassy in Serbia was presented in the National Assembly House on 30 September 2019.
---
The presentation was attended by representatives of the Bulgarian Embassy in Serbia: H.E. Ambassador Radko Vlaykov, First Secretary Sergey Andreev and Third Secretary Boryana Puncheva; as well as National Assembly Deputy Secretary General Branko Marinkovic, Secretary General assistants Marina Sukovic and Dario Kukolj, members of the project Working Team, National Assembly Support Service staff, consultant Dr Marija Jovic, Assistant Professor of the Faculty of Organizational Sciences, and Bojan Buhac, representative of Microsoft.
National Assembly Deputy Secretary General Branko Marinkovic thanked the Bulgarian Ambassador and Embassy for making the project possible by providing the grant and expert assistance, as well as the National Assembly Support staff, consultant and associates who worked on the realization of the project. He went on to present the results in brief, adding that he hoped the Bulgarian Embassy in Serbia would continue to provide support to the National Assembly Service.

Bulgarian Ambassador to Serbia H.E. Radko Vlaykov praised the success of the realized project supported by the Bulgarian Foreign Ministry and Embassy in Serbia, emphasizing its importance for strengthening the parliament's administrative capacities. Saying that the parliament is one of the most important democratic instruments in a country, the Ambassador added his hopes that the cooperation would be continued, to mutual benefit, on other, future projects.
Step one in the establishment of a system of Support Service policies, procedures and activities was defining and updating the existing procedures and instructions, identifying new tasks, performed but not defined in writing, and identifying tasks that require new, additional written procedures and instructions. By implementing the correct tools and instructions of the external consultant, the staff defined 81 procedures per organizational unit in a precise, concise, comprehensive and consistent manner, verified by the superiors and gathered all in the National Assembly Support Service Book of Procedures, a guidebook for day-to-day tasks.
The Book of Procedures is accompanied by a series of internal documents, drafted to advance the working processes in the Service.
The project also resulted in a multi-functional internal app that contributes to the information system, both in the communication between Service staff and in the exchange of information relevant for day-do-day work, simplifies the procedure for submitting requests and reporting errors, makes useful content available for use and monitoring, evaluation and control of the working processes, and is open for continuous improvement.
The representative of Microsoft, hired to develop the app, then presented it, its functions and use in practice.


---
---
friday, 21 january
13.00 - meeting of the Inter-Party Dialogue Control Body (National Assembly House, 13 Nikola Pasic Square, hall 1)