National Assembly of the Republic of Serbia / Activities / Activity details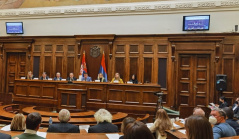 3 December 2021 Participants of the public hearing
Friday, 3 December 2021
Public Hearing on Implementation of United Nations Climate Change Conference – COP26 Agreement in Serbia
The National Assembly House hosted the public hearing on: "Implementation of the United Nations Climate Change Conference - COP26 Agreement in Serbia", organised by the Environmental Protection Committee.
---
National Assembly Speaker Ivica Dacic conveyed the core messages of the United Nations Climate Change Conference in Glasgow, in which he took part within the debate of speakers of parliament organised by the Inter-Parliamentary Union. He stressed that the fight against climate change is the number one topic in today's world and the most important part of national policies.

Dacic said that Serbia is active in the fight and has made major strides in contributing to global efforts, primarily through the adoption of the Law on Climate Change and a set of four energy laws. "The National Assembly will continue to work on improving the regulatory framework and implementing the green agenda in Serbia", Ivica Dacic emphasised.

In his address, the National Assembly Speaker also highlighted the many years of successful operation of the Green Parliamentary Group.

Environmental Protection Committee Chairman Dr Ljubinko Rakonjac stressed that in less than a year the National Assembly had passed as many as six environmental laws, a matter of pride for all of the members of the Committee he heads. He pointed that this also says a lot about the active work of the Ministry of Environmental Protection.

In the two panels that followed, representatives of state institutions presented their views on climate change and discussed ways to address the problem, viz.: Jelena Tanaskovic, State Secretary at the Ministry of Environmental Protection, Prof. Dr Ivica Radovic, State Secretary at the Ministry of Education, Science and Technological Development, Jelena Blagojevic, State Secretary at the Ministry of Agriculture, Forestry and Water Management, Djordje Milic, Assistant Minister, Sector for Spatial and Urban Planning, Ministry of Construction, Transport and Infrastructure, Ivana Vilotijevic, Secretary of the Secretariat for Environmental Protection of the City of Belgrade; Dubravka Filipovski, coordinator of the informal Green Parliamentary Group, Nada Lazic, Special Adviser for Sustainable Development, Ministry of Human and Minority Rights and Social Dialogue, Goran Pejanovic, Assistant Director, Sector for the National Centre for Climate Change, Climate Model Development and Natural Disaster Risk Assessment, Republic Hydrometeorological Service, Danijela Bozanic, climatologist, Prof. Dr Ratko Kadovic and Prof. Dr Vasilije Isaja on behalf of the University of Belgrade.



---
Committees related to this activity
---
---
monday, 30 january
10.00 - the National Assembly Speaker meets with the Dutch Ambassador to Serbia (National Assembly House, 13 Nikola Pasic Square, hall 1)

11.00 - the Chairman of the Foreign Affairs Committee meets with the Dutch Ambassador to Serbia (National Assembly House, 13 Nikola Pasic Square, hall 2)

15.00 - the Chairman of the Foreign Affairs Committee meets with the German Deputy Ambassador in Serbia (National Assembly House, 13 Nikola Pasic Square, hall 2)