National Assembly of the Republic of Serbia / Activities / Activity details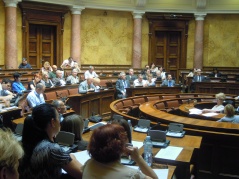 19 June 2013 Participants of the public hearing on the Bill on Social Entrepreneurship and Employment in Social Enterprises
Wednesday, 19 June 2013
Public Hearing on Bill on Social Entrepreneurship and Employment in Social Enterprises
Today, the National Assembly House hosted a public hearing on the Bill on Social Entrepreneurship and Employment in Social Enterprises, organised by the Committee on Labour, Social Issues, Social Inclusion and Poverty Reduction.
---
The public hearing, attended by MPs, representatives of the executive, local self-governments, civil society organisations and international organisations, was opened by Committee Chairperson Milica Dronjak. She said that Serbia is experiencing continuous unemployment among the socially vulnerable population categories, pointing out that this Bill should be passed so as to stimulate the employment of socially vulnerable persons, refugees, internally displaced persons, persons with disabilities and persons over 50 years of age.MP Miljenko Dereta, one of the proposers of the public hearing, pointed out that the proposed Bill needs to be improved, saying that the difference between social entrepreneurship and social employment needs to be clearly defined.The participants of the public hearing were also addressed by Brankica Jankovic, representative of the Ministry of Labour, Employment and Social Policy, who spoke of the social situation in the country and shared information about the unemployment.Jasmina Tanasic from the Standing Conference of Towns and Municipalities spoke of the impact the Bill would have, if it were adopted, on the employment of socially endangered persons at the local level.The Bill was also discussed by representatives of the Association for Support to Persons with Developmental Disorders "Our House", Association of Companies for the Disabled of Serbia, Youth with Disabilities Forum of Serbia, Balkan Local Initiative Fund and the Independent Living Centre. They shared their suggestions on how to improve the Bill, also discussing the need to adjust the Bill to the concept of entrepreneurship, considering the problems Serbian enterprises have to deal with.The participants also exchanged opinions on the principles of social entrepreneurship, the role of the state in employment in local self-governments, the problems of employment of single parents, socially vulnerable women who have lost their jobs, the homeless as a socially invisible category, and the participants' questions were answered by the representatives of the Ministry of Labour, Employment and Social Policy.At the end, Committee Chairperson Milica Dronjak informed the participants that the Committee would formulate conclusions and recommendations based on the discussion and then forward them to the participants of the public hearing.
The public hearing was held with the support of the United Nations Development Programme (UNDP) and the Swiss Agency for Development and Cooperation (SDC).
---
Committees related to this activity
---
---
wednesday, 20 october
14.00 - National Assembly Deputy Speaker Dr Vladimir Orlic and Head of PFG with Germany Vesna Markovic meet with the Deputy Speaker of the Bundestag Claudia Roth (National Assembly House, 13 Nikola Pasic Square, hall 2)