National Assembly of the Republic of Serbia / Activities / Activity details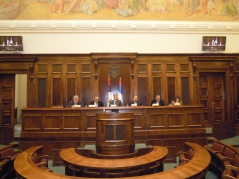 Tuesday, 13 December 2011
Public Hearing Held on Issues Relating to the Completion of Privatisation in Serbia in Light of the New Economic Crisis
The National Assembly House hosted a public hearing on "Issues relating to the completion of privatisation in Serbia in light of the new economic crisis", organised by the Committee on Petitions and Proposals.
---
In addition to the Chairman of the Committee on Petitions and Proposals, Sasa Dujovic, his deputy Kenan Hajdarevic, Ministry of Finance representative Marinko Bosnjak, Chairman of the Committee on Petitions and Proposals at the AP Vojvodina Assembly Milan Djukic, President of the Vojvodina Shareholders' Association Veselin Muhadinovic and representative of small shareholders and cooperants from Srpski Miletic Vesna Petkovic also took part in the discussion.
Opening the public hearing, the Chairman of the Committee on Petitions and Proposals, Sasa Dujovic emphasised the need to implement both the legislative and control function of the parliament, stressing that the National Assembly could not successfully exercise its authority without successfully realising its control function. In his address, Dujovic stressed that, in order to implement the control function, it is very important that the committees deliberate on the citizens' petitions and proposals and act on them promptly and responsibly. At the same time Dujovic stated that the committees should investigate specific cases, as well as seek new approaches thus making their work more fruitful and efficient.
On the behalf of the Ministry of Finance Marinko Bosnjak briefed the assembly on the macroeconomic and fiscal framework which, in the current situation caused by the global economic crisis and its impact on Serbia, is not the most favourable. Bosnjak pointed out the difficulties in the privatisation process, the constant drop in retail turnover and high unemployment rate. He also spoke about the measures the Government plans to implement to address these issues i.e. minimize their effect.
Committee Deputy Chairman Kenan Hajdarevic greeted the assembly saying that, by organising the public hearing, the Committee intended to give the present citizens, shareholders, the opportunity to get some answers to their petitions, as well as share their experience, all aimed at successfully contributing to the resolution of this important issue.
In the continuation, the shareholders present debated the topic at hand and presented their problems.
Following the discussion, Committee Chairman Sasa Dujovic concluded the following: "Starting from the positive regulations, primarily the Privatisation Law which has had some negative impact on the privatisation process, we believe that the state authorities in charge should debate the manner and perspective for changing the positive regulations so as to remove i.e. prevent the negative consequences of their implementation. We also believe that, based on the petitions received as well as the magnitude of the consequences the privatisation process has had on the society as a whole, the competent state authorities, within their scope, should investigate the privatisation process primarily in the cases mentioned in the petitions, so that the privatisation process might be analysed from a legally adequate level, in order to remove the negative occurrences in the spheres of labour, employment and social and pension benefits".
---
---
tuesday, 28 march
14.00 - sitting of the Committee on Human and Minority Rights and Gender Equality (National Assembly House, 13 Nikola Pasic Square, hall 2)

14.25 - ceremonial welcome of the President of the Republic of Greece (National Assembly House, 13 Nikola Pasic Square, Central Hall)

14.30 - the National Assembly Speaker meets with the President of the Republic of Greece (National Assembly House, 13 Nikola Pasic Square, hall 1)

16.00 - the National Assembly Speaker meets with the Kazakh Ambassador to Serbia (National Assembly House, 13 Nikola Pasic Square, hall 1)