National Assembly of the Republic of Serbia / Activities / Activity details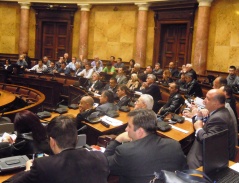 7 October 2013 Participants of the public hearing
Monday, 7 October 2013
Public Hearing Held on Does Serbia Need the Raspberry
The Agriculture, Forestry and Water Management Committee organised a public hearing titled Does Serbia Need the Raspberry, at the National Assembly House.
---
The public hearing was attended by MPs, representatives of the Ministry of Agriculture, Forestry and Water Management, Plant Protection Directorate, expert public, representatives of local self-governments, raspberry growers' associations, the civil sector and concerned media.
Opening the public hearing, the Chairman of the Agriculture, Forestry and Water Management Committee, Aleksandar Senic said that the goal of the public hearing is to ascertain whether the raspberry should be declared a strategic product of Serbian agriculture and employ dialogue among all the stakeholders to determine the role of the state and local self-governments and adequate measures to boost raspberry production.
The participants of the public hearing were addressed by Assistant Minister of Agriculture, Forestry and Water Management Nenad Katanic, raspberry experts Aleksandar Leposavic and Svetislav Petrovic, President of the "Serbian Raspberry" association Dragan Vukailovic and representatives of raspberry growers Dole Radovic and Vladimir Nikolic.
In the course of the public hearing the participants discussed strategies on the raspberry as one of Serbia's most important export commodities, the economic situation of the raspberry growers, their working conditions and the raspberry buyout price.
Concluding the public hearing, Committee Chairman Aleksandar Senic said that the information the participants shared give the impression that it is necessary to set up a national council for berry fruit which would coordinate the cooperation between the raspberry growers and the state which would ultimately result in the raspberry being declared Serbia's strategic product.

---
Committees related to this activity
---
Video (1)
Monday, 7 October 2013 | javno slušanje: Da li je Srbiji potrebna malina? 07.10.2013.
---
---
monday, 6 december
10.00 - public hearing on the Presentation of the Draft Trade Strategy of the Republic of Serbia by 2025 (National Assembly Building, 14 Kralja Milana Street, Grand Hall)

12.00 - the National Assembly Speaker meets with the Egyptian Ambassador to Serbia (National Assembly House, 13 Nikola Pasic Square, diplomatic salon of Prince Pavle Karadjordjevic)

13.00 - continuation of the sitting of the Committee on the Economy, Regional Development, Trade, Tourism and Energy (National Assembly Building, 14 Kralja Milana Street, Grand Hall)

14.00 - sitting of the Committee on Constitutional and Legislative Issues (National Assembly House, 13 Nikola Pasic Square, hall 2)