National Assembly of the Republic of Serbia / Activities / Activity details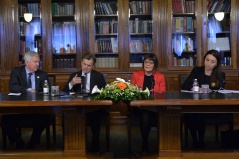 21 April 2017 Press conference of Mikhail Baryshnikov
Friday, 21 April 2017
Press Conference of Mikhail Baryshnikov
World-renowned artist Mikhail Baryshnikov, who has come to Belgrade to perform his one-man show Brodsky/Baryshnikov, visited the National Assembly House where he met with National Assembly Speaker Maja Gojkovic and had a press conference.
---
National Assembly Speaker Maja Gojkovic was most pleased that the famous artist had decided to have a press conference at the Parliament - a historic edifice and Serbian monument of culture.

She spoke about the successful cooperation with the Belgrade Dance Festival and Aja Jung who had put Belgrade and Serbia on the cultural map of the world. The Speaker stressed that the Belgrade Dance Festival can always count on support from the institutions.

Mikhail Baryshnikov said it was an honour to speak of his project at such a historic place as the National Assembly library, stressing how touched he was by the media's interest in his play about the Russian poet Joseph Brodsky.

"I have visited your country before, Novi Sad. And I am very happy to be here today. This is a very personal project, a personal, intimate show that I am proud to bring you. I have to stress that this is not a dance performance but an unusual moment in my life, a transition from dance to theatre", said Baryshnikov.

He said he was impatient to meet the audience here because the cultures of Russia and Serbia are very close, connected through similar language and the same religion.

"They have told me that the poetry of Joseph Brodsky is well-known here not only in schools and universities, but among the common people, and I cannot wait to discover this connection" said Baryshnikov.

The press conference was also attended by Aja Jung, Director of the Belgrade Dance Festival, who is the famous artists' host in Belgrade, and the US Ambassador Kyle Scott.

Baryshnikov ended his visit to the National Assembly with a tour of the edifice, and a talk on its historical and cultural significance.


Video
Friday, 21 April 2017 | susret predsednice Narodne skupštine sa umetnikom Mihailom Barišnjikovim 21.04.2017.
---
---