National Assembly of the Republic of Serbia / Activities / Activity details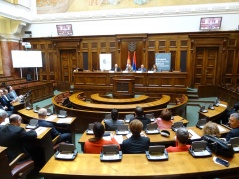 13 October 2015 Presentation of the draft study "Competition Policy in Serbia - What is the Problem?"
Tuesday, 13 October 2015
Presentation of Draft Study "Competition Policy in Serbia - What is the Problem"
The National Assembly House hosted the presentation of the draft study "Competition Policy in Serbia - What is the Problem?" and a public debate on the topic.
---
The objective of the study is to identify the critical points in the competition policy and, through public debate, find mechanisms to advance the policy and enable the precise planning of steps toward the improvement of the current situation. According to the opening words of the Director of the European Policy Centre Nebojsa Lazarevic, competition should be viewed through the aspect of EU pre-accession talks, to detect and solve the problems as needed on the path to harmonisation with European standards.
"It is important to pinpoint what is the goal of the EU talks – mere membership or the wish to become a successful and credible member", said Lazarevic.
The Chairperson of the Committee on the Economy, Regional Development, Trade, Tourism and Energy Dr Aleksandra Tomic said that there certainly are problems in the competition policy and in its talks with the European Union Serbia has been made aware that the area requires extensive harmonisation.
"It is a process and path we could not conduct and implement with the same intensity and strength without the civil sector, or have the information system we have based on the reports and studies such as the one to be presented today at the National Assembly" said Tomic. She hopes that the communication between the National Assembly and the civil society would become common practice and invited all interested parties to visit the Parliament and share their suggestions, observation and opinions with the Committee members.
The assembly was also addressed by the President of the Commission for Protection of Competition Miloje Obradovic, and State Secretary at the Ministry of Trade, Tourism and Telecommunications Vesna Kovac who, as the President of Negotiating Group 8 – competition, spoke about the course of EU talks on the matter.
The draft study "Competition Policy in Serbia - What is the Problem?" was presented by Dusan Protic.
Click
here
to watch the opening addresses and presentation of the study.
---
---