National Assembly of the Republic of Serbia / Activities / Activity details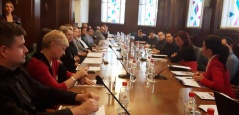 24 December 2015 Presentation of the booklet "Strengthening the National Assembly's Oversight Role – Framework for Discussion"
Thursday, 24 December 2015
Presentation of Booklet "Strengthening the National Assembly's Oversight Role – Framework for Discussion"
The National Assembly hosted the presentation of the booklet "Strengthening the National Assembly's Oversight Role – Framework for Discussion" on 24 December.
---
On the behalf of the United Nations Development Programme (UNDP), the booklet was presented by Marko Vujacic who stressed that the framework for discussion is the result of the contributions the lecturers and attendees offered during and after the completion of the one-semester course Parliament and Democracy, held from February to May 2015, with the support of the UNDP project "Strengthening the Oversight Role and Transparency of the National Assembly" in cooperation with the National Assembly and with the support of the Swiss Agency for Development and Cooperation.

Thanking all the lecturers and attendees of the course who had helped the publishing of the booklet, Vujacic stressed that oversight, as one of the parliament's four key roles, is the one most important for parliamentary development and its strengthening should remain a priority in the future.

The assembly was then addressed by MP Dubravka Filipovski who said that she found the Parliament and Democracy course both very educational and challenging. On the behalf of the National Assembly, she and MP Olgica Batic were responsible for presenting the work of the Global Organization of Parliamentarians Against Corruption (GOPAC) as a new approach to the fight against corruption. "This course was an opportunity for the representatives of the National Assembly to present the parliament's work and motivate the students to come up with a new educational form through their analyses, one much needed for the further development of democracy and parliamentarism,", concluded Filipovski.

MP Marija Obradovic also addressed the assembly, saying that she believed it would be very important to continue in the same vein, as much as funding and projects allow, and that the Serbian parliament is willing and needs to participate in projects of this kind.

On the behalf of the National Assembly Support Service the assembly was addressed by National Assembly Assistant Secretary General and Legislative Sector Chief Mirjana Radakovic. Radakovic said it was an honour to be one of the lecturers in the course. "We are here to share our knowledge and experience, with the help of UNDP and the Faculty of Political Sciences, with everybody in the Support Services interested in hearing about it. During the course we had the opportunity to talk, learn from one another, exchange opinions and expand our knowledge, and I believe we rose up to the challenge the result of which is this booklet", concluded Radakovic.

On the behalf of the Faculty of Political Sciences the gathering was attended by Dr Dusan Spasojevic who thanked the National Assembly and UNDP for launching and supporting the programme, adding that in the future, other faculties of the Belgrade University should be included in projects of this kind.

Besides MPs Dubravka Filipovski and Marija Obradovic, the gathering was attended by National Assembly Support Service staff, UNDP representatives and professors and students of the Faculty of Political Sciences.


---
---
thursday, 20 january
13.00 - the National Assembly Speaker meets with the Ambassador Extraordinary and Plenipotentiary of the Bolivarian Republic of Venezuela (National Assembly House, 13 Nikola Pasic Square, diplomatic salon of Prince Pavle)