National Assembly of the Republic of Serbia / Activities / Activity details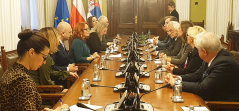 20 March 2019 The members of the Parliamentary Friendship Group with Poland in meeting with the Polish parliamentary delegation
Wednesday, 20 March 2019
Poland Affirms Support for Serbia's Path to EU and Not Voting For So-Called State of Kosovo's UNSECO Bid
The members of the Parliamentary Friendship Group with Poland met today at the National Assembly House with a delegation of the Group for Cooperation with the Western Balkans of the Parliamentary of the Republic of Poland.
---
PFG Head Dragana Kostic said she was very pleased that the National Assembly has the opportunity to welcome the Polish delegation on the 100th anniversary of diplomatic relations between the two countries. She spoke about the traditionally good relations between Serbia and Poland stressing that the MPs are open to improving parliamentary cooperation, as evidenced by the National Assembly Speaker's visit to Poland last year.
Kostic spoke about the problems Serbia is faced with on the territory of Kosovo-Metohija, from the 100% customs tax on goods from Serbia, to the fact that Pristina has not fulfilled one of its obligations under the Brussels Agreement. She thanked Poland for its assistance on Serbia's path to full EU membership and abstinence on the so-called state of Kosovo's 2015 UNSECO bid.
Tomasz Glogowski, member of the Polish delegation, said he could not understand the imposition of a 100% customs tax on goods from Serbia by Pristina which also has ambitions to join the EU, because this act violates all the trade principles the organization is built on. Speaking of the coming election for European Parliament, he said that Poland will have many deputies in it which will give definite support for Serbia's path to the EU.
PFG member and Culture and Information Committee Chairman Mirko Krlic explained the importance of not having the so-called state of Kosovo join UNSECO. He shared the worrying data on the number of demolished churches, monasteries and cemeteries stressing that judging from Pristina's treatment of the Serbian cultural heritage so far it is clear how it would treat it if it were to join UNESCO and gain direct authority over its protection.
Poland was the first Slavic country to recognize the unilaterally declared independence of Kosovo and the members of the PFG with Poland hoped that an intensification of interparliamentary cooperation could prompt Poland to re-evaluate its position, especially since after WWII it too had to face losing part of its territory.
The members of the Polish delegation said that Serbia is very much a touristic unknown for Poland which is a shame because even though it does not have access to the coast Serbia contains sights that would be interesting to Polish tourists.
The meeting was also attended by Dr Darko Laketic, Ana Carapic and Prof. Dr Snezana Bogosavljevic Boskovic.


---
---
friday, 28 february
10.00 - continuation of the 26th Extraordinary Session of the National Assembly of the Republic of Serbia, 11th Legislature (National Assembly House, 13 Nikola Pasic Square)

11.55 - reception of the Speaker of the National Assembly of the Republic of Srpska (National Assembly House, 13 Nikola Pasic Square, vestibule)

12.00 - sitting of the Committee on Kosovo-Metohija (National Assembly House, 13 Nikola Pasic Square, Small Hall)

12.00 - sitting of the Committee on Spatial Planning, Transport, Infrastructure and Telecommunications (National Assembly House, 13 Nikola Pasic Square, hall 2)

12.00 - opening of the First Meeting of the National Assembly of the Republic of Serbia - National Assembly of the Republic of Srpska Cooperation Commission (National Assembly House, 13 Nikola Pasic Square, hall 1)

14.40 - continuation of the First Meeting of the National Assembly of the Republic of Serbia - National Assembly of the Republic of Srpska Cooperation Commission (National Assembly House, 13 Nikola Pasic Square, hall 1)