National Assembly of the Republic of Serbia / Activities / Activity details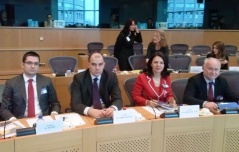 19 February 2014 The participants of the parliamentary seminar
Friday, 21 February 2014
Parliamentary Seminar on Health and Consumer Protection
A parliamentary seminar on Health and Consumer Protection, co-organised by the European Parliament Directorate for Relations with National Parliaments and the Directorate-General for External Policies of the Union, was held in Brussels on 19 and 20 February 2014.
---
The seminar was attended by the MPs and staff of the parliaments of the Western Balkan countries and Turkey, viz. delegations from Albania, Macedonia, Montenegro, Serbia and Turkey, as well as representatives of UNMIK/Kosovo.
The National Assembly delegation comprised Health and Family Committee members Dr Zarko Korac and Dr Sanda Raskovic Ivic, Chairman of the Agriculture, Forestry and Water Management Committee Aleksandar Senic and member of the Committee on the Economy, Regional Development, Trade, Tourism and Energy Radojko Obradovic.
The seminar was also attended by MEPs and representatives of the European Commission. The first part of the seminar was chaired by Jelko Kacin, EP rapporteur for Western Balkans.
On the behalf of the National Assembly, Aleksandar Senic spoke briefly on the health and consumer protection system in the Republic of Serbia, stressing that Serbia was ready to work on improving the situation in the field so as to adjust its system to EU standards as quickly as possible.
The participants agreed that an exchange of experiences and views on health and consumer rights protection was very important both for the Western Balkan countries and Turkey themselves and the EU. This is a well-regulated field with a great many laws, standards and regulations which the Western Balkan countries and Turkey should incorporate into their own legislation in the course of the EU accession process. They suggested that the members of the committees dealing with health, agriculture and trade in the parliaments of the Western Balkan countries and Turkey should be more active in the legislative process, the implementation of laws and control of said implementation.

---
---
| M | T | W | T | F | S | S |
| --- | --- | --- | --- | --- | --- | --- |
| 27 | 28 | 29 | 30 | 31 | 1 | 2 |
| 3 | 4 | 5 | 6 | 7 | 8 | 9 |
| 10 | 11 | 12 | 13 | 14 | 15 | 16 |
| 17 | 18 | 19 | 20 | 21 | 22 | 23 |
| 24 | 25 | 26 | 27 | 28 | 29 | 30 |
| 31 | 1 | 2 | 3 | 4 | 5 | 6 |
friday, 7 august
No announcements for selected date