National Assembly of the Republic of Serbia / Activities / Activity details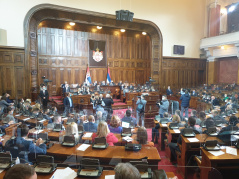 26 November 2020 Parliamentary Questions in November
Thursday, 26 November 2020
Parliamentary Questions in November
On 26 November, in line with article 205, paragraph 1, of the National Assembly Rules of Procedure, the MPs posed questions to the Government of the Republic of Serbia, between 4 and 7 pm.
---
MPs Dr Muamer Zukorlic, Shaip Kamberi, Muamer Bacevac, Dragan D. Markovic, Dragan Markovic, Arpad Fremond, Djordje Milicevic, Aleksandar Markovic and Samir Tandir had questions for the members of the Government of the Republic of Serbia.
Government representatives Prime Minister Ana Brnabic, First Deputy Prime Minister and Minister of Education, Science and Technological Development Branko Ruzic, Deputy Prime Minister and Minister of Defence Dr Nebojsa Stefanovic, Deputy Prime Minister and Minister of Culture and the Media Maja Gojkovic, Minister of Finance Sinisa Mali, Minister of Economy Andjelka Atanaskovic, Minister of Environmental Protection Irena Vujovic, Minister of Construction, Transport and Infrastructure Tomislav Momirovic, Minister of Trade, Tourism and Telecommunications Tatjana Matic, Minister of Justice Maja Popovic, Minister of Public Administration and Local Self-Government Marija Obradovic, Minister of Human and Minority Rights and Social Dialogue Gordana Comic, Minister of Foreign Affairs Nikola Selakovic, Minister for European Integration Jadranka Joksimovic, Minister of Health Dr Zlatibor Loncar, Minister of Labour, Employment, Veteran and Social Affairs Prof. Dr Darija Kisic Tepavcevic, Minister of Family Welfare and Demography Radomir Ratko Dmitrovic, Minister of Youth and Sport Vanja Udovicic and ministers without portfolio Nenad Popovic and Novica Toncev, responded to the MPs' questions.
---
Photo gallery
---
---
monday, 20 march
11.00 - the Head of the PFG with Palestine meets with the Charge d'Affaires of the Embassy of the State of Palestine in Serbia (National Assembly House, 13 Nikola Pasic Square, hall 2)

14.00 - the Chairman of the Foreign Affairs Committee meets with the Chairman of the Bundestag's Foreign Affairs Committee (National Assembly House, 13 Nikola Pasic Square, hall 2)

16.00 - the members of the PFG with Italy meet with members of the Italian Chamber of Deputies (National Assembly House, 13 Nikola Pasic Square, hall 2)