National Assembly of the Republic of Serbia / Activities / Activity details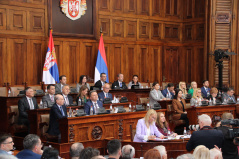 27 April 2023 Parliamentary Questions in April
Thursday, 27 April 2023
Parliamentary Questions in April
On 27 April 2023, in line with article 205, paragraph 1, of the National Assembly Rules of Procedure, the MPs posed questions to the Government of the Republic of Serbia, between 4 and 7 pm.
---
MPs Zika Gojkovic, Usame Zukorlic, Radomir Lazovic, MA Akos Uјhelyi, Haji Milorad Stosic and Bosko Obradovic had questions for the members of the Government of the Republic of Serbia.
Government representatives Prime Minister Ana Brnabic, Minister of Education Branko Ruzic, Minister of Finance Sinisa Mali, Minister of Environmental Protection Irena Vujovic, Minister of European Integration Prof. Dr Tanja Miscevic, Minister of Public Administration and Local Self-Government Dr Aleksandar Martinovic, Minister of Agriculture, Forestry and Water Management Jelena Tanaskovic, Minister of Construction, Transport and Infrastructure Goran Vesic, Minister of Mining and Energy Dubravka Djedovic, Minister of the Interior Bratislav Gasic, Minister of Rural Welfare Milan Krkobabic, Minister of Science, Innovation and Technological Development Dr Jelena Begovic, Minister of Tourism and Youth Husein Memic, Minister of Telecommunications and Information Mihajlo Jovanovic, Minister without portfolio Novica Toncev, Minister without portfolio Djordje Milicevic, Minister without portfolio Edin Djerlek, Minister of Health Prof. Dr Danica Grujicic, Minister of Family Welfare and Demography Prof. Dr Darija Kisic and Minister of Sport Zoran Gajic responded to the MPs' questions.
---
---
wednesday, 4 october
9.00 - sitting of the Committee on Finance, State Budget and Control of Public Spending (National Assembly House, 13 Nikola Pasic Square, hall 2)

10.00 - the National Assembly Speaker meets with the Chinese Ambassador to Serbia (National Assembly House, 13 Nikola Pasic Square, hall 1)

12.00 - sitting of the Culture and Information Committee (National Assembly House, 13 Nikola Pasic Square, hall 4)